An Introduction to Contemporary Fiction: International Writing in English since 1970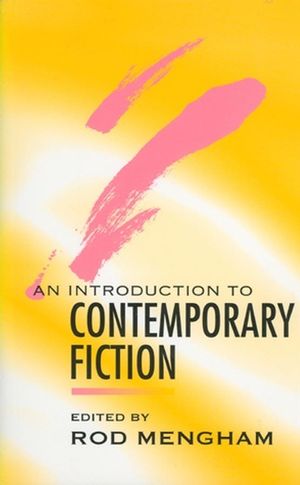 An Introduction to Contemporary Fiction: International Writing in English since 1970
ISBN: 978-0-745-61957-6
Aug 1999
256 pages
Description
This volume provides a comprehensive introduction to fiction in the English-speaking world during the period from 1970 to the present day. During this period, a sea change has transformed fiction in English, and this collection introduces the key developments as well as the works of some of the most important writers today.
Notes on Contributors.
Introduction: Rod Mengham.
Part I: Issues:.
1. Constructions of Identity in Post-1970 Experimental Fiction: Kathleen M. Wheeler.
2. The Power to Tell: Rape, Race and Writing in Afro-American Women's Fiction: Maud Ellmann.
3. Looking Awry: Tropes of Disability in Post-colonial Writing: Ato Quayson.
4. Movement in Fiction: John Harvey.
Part II: Key Texts and Authors: .
5. The Dissident Imagination: Beckett's Late Prose Fiction: Drew Milne.
6. The Mutations of William Burroughs: Geoff Ward.
7. 1973 The End of History: Cultural Change According to Muriel Spark: Rod Mengham.
8. Oswald our Contemporary: Don DeLillo's Libra: N. H. Reeve.
9. Graham Swift and the Mourning After: Adrian Poole.
10. Mapping the Margins: Translation, Invasion and Celtic Islands in Brian Moore and John Fuller: Sophie Gilmartin.
11. The Uses of Impurity: Fiction and Fundamentalism in Salman Rushdie and Jeanette Winterson: Mark Wormald.
12. Sex, Violence and Complicity: Martin Amis and Ian McEwan: Kiernan Ryan.
13. Can Fiction Swear? James Kelman and the Booker Prize: Geoff Gilbert.
Bibliography.
Index.
* The first comprehensive guide to the most significant developments in contemporary fiction in English.
* Very international in focus covering a wide-range of fiction from various parts of the English-speaking world.
* Relates developments in fiction to wider cultural and theoretical issues.