An Introduction to Digital Communications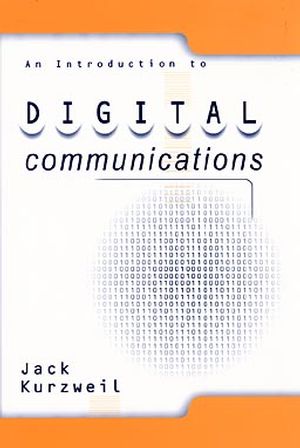 An Introduction to Digital Communications
ISBN: 978-0-471-15772-4 November 1999 560 Pages
Description
An Introduction to Digital Communications focuses on the central theoretical and practical issues involved in modem design. It is intended for a two semester course at the graduate or advanced undergraduate level. The first half of the book deals with the basic issues of baseband and passband data transmission and contains descriptions of applications to specific digital transmission systems. The second half is more specifically addressed to design issues including timing and carrier recovery, channel characterization, adaptive equalization, and trellis coding. Although application oriented, the text is sufficiently rigorous to provide an entry point into current research.
Table of contents
Fourier Series and Transforms.

Spectral Analysis of Data Signals and Noise.

Baseband Data Transmission.

Bandpass Data Transmission.

Maximum Likelihood Signal Detection and Some Applications.

Carrier Phase and Timing Recovery.

Channel Models for Communication Systems.

Channel Capacity and Coding.

Trellis Coding and Multidimensional Signaling.

Equalization of Distorted Channels.

Adaptive Equalization and Echo Cancellation.

Index.
Features
Unique use and presentation of simulation programs. Through the use of simulation programs in Matlab and in C, students are able to:

Determine the power spectral density of complex data encoding rules (Chapter 3).
Simulate the performance of passband data transmission techniques (Chapter 4).
Design and assess the performance of carrier recovery systems (Chapter 6).
Develop time domain models for a variety of channels (Chapter 7).
Design and assess the performance of adaptive equalizers (Chapters 10 and 11).
Use existing programs as the framework for creating their own simulation modules.

Offers a unified presentation.

Develops a common Markov Process model for data encoding, ISI, and partial response, enabling an approach to the Viterbi Algorithm that is common to all these phenomena.
Completely discusses all of the equalizer structures used in modem design and gives comparative performance on real channels.
Develops a unified approach to communications channel modeling so comparisons of receiver structures appropriate to different channels can be made.