An Introduction to Feminist Epistemologies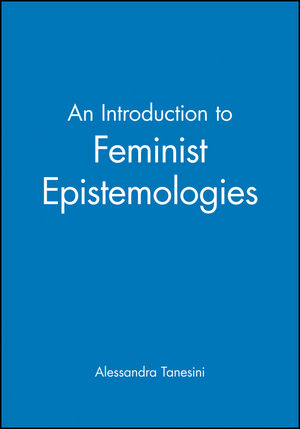 An Introduction to Feminist Epistemologies
ISBN: 978-0-631-20012-3 January 1999 Wiley-Blackwell 296 Pages
Description
Although their positions and arguments differ in several respects, feminists have asserted that science, knowledge, and rationality cannot be severed from their social, political, and cultural aspects.
Table of contents
Part I: Varieties of Epistemology:
.
1. Epistemology.
2. The Study of Scientific Knowledge:.
a. Philosophy of Science.
b. The Sociology of Knowledge.
c. The Cultural Study of Scientific Knowledge.
Part II: Feminism and "Mainstream" Epistemology.
1. Feminist Criticisms of Individualism in Epistemology.
2. Feminist Objections to the Traditional Epistemic Subject.
Part III: Feminism and Science:.
1. Sexist Science.
2. Science and Values.
Part IV: Feminist Empiricism:.
1. Contextual Empiricism.
2. Naturalised Empiricism.
3. The Limits of Empiricism.
Part V: Naturalised feminist Epistemology:.
1. Feminism and Naturalised Epistemology.
2. Sociology and Naturalised Epistemology.
Part VI: The Importance of Standpoint in Feminism:.
1. What is a Standpoint: Beginning from Women's Experience.
2. Starting from Marginal Lives.
Part VII: Objectivity and Feminism:.
1. What is Objectivity?.
2. Objectivity and Objectification. Objectivity, Values, and Responsibility.
Part VIII: Knowledge and Power:.
1. Power, Knowledge, and Human Interests.
2. Disciplinary Power, Bio-Power, and Science.
Part IX: Reason and Unreason in feminism:.
1. Reason and masculinity.
2. Reason and the Philosophical Imaginary.
Part X: Feminism and Postmodernism:.
1. Epistemology: Rejection or Transformation?.
2. Knowledge and the Subject.
Reviews
"One of the strengths of the book is Tanesini's attention to detail in argument and her capacity to draw fine distinctions between the positions she discusses."
Alison Ainley, Radical Philosophy
"The scope of the book is wide, and I would recommend it as a text book for students in the final year of their degree, postgraduate students and also to academics in general. It is very clearly written and the issues are explained in detail and contextualised adequately. There is no simplification of the topics, and the analyses offered by Tanesini are throrough. I would classify this as an accessible but sophisticated introduction to feminist epistemology." Stella Gonzalez Arnal, Women's Philosophy Review, no. 24, 2000
What's New
* Moves across traditional disciplinary boundaries, bringing together the work of thinkers in areas as diverse as philosophy, film theory, and sociology.
* Accessible to undergraduates approaching the subject for the first time.
* A wide-ranging introduction to the main issues at the intersection of gender and knowledge.
* Novel approach based on the notion of practice.