An Introduction to Language Policy: Theory and Method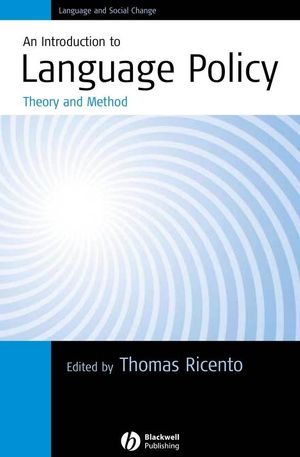 An Introduction to Language Policy: Theory and Method
ISBN: 978-1-405-14462-9 February 2009 Wiley-Blackwell 384 Pages
Description
An Introduction to Language Policy: Theories and Method
is a collection of newly-written chapters that cover the major theories and methods currently employed by scholars active in the field.


provides an accessible introduction to the study of language policy research and language's role in social life

consists of newly commissioned essays written by internationally recognized scholars

helps define and describe a growing field of inquiry and is an authoritative source for students, scholars and researchers in linguistics, applied linguistics, education, policy studies and related areas

includes section overviews, annotated chapter bibliographies, and discussion questions
Table of contents
List of Contributors viii
Preface x
Part I Theoretical Perspectives in Language Policy 1
Theoretical Perspectives in Language Policy: An Overview 3
Thomas Ricento
1 Language Policy: Theory and Practice – An Introduction 10
Thomas Ricento
2 Frameworks and Models in Language Policy and Planning 24
Nancy H. Hornberger
3 Critical Theory in Language Policy 42
James W. Tollefson
4 Postmodernism in Language Policy 60
Alastair Pennycook
5 Economic Considerations in Language Policy 77
François Grin
6 Political Theory and Language Policy 95
Ronald Schmidt, Sr
7 Language Policy and Linguistic Culture 111
Harold Schiffman
Part II Methodological Perspectives in Language Policy 127
Methodological Perspectives in Language Policy: An Overview 129
Thomas Ricento
8 The Lessons of Historical Investigation: Implications for the Study of Language Policy and Planning 135
Terrence G. Wiley
9 Ethnographic Methods in Language Policy 153
Suresh Canagarajah
10 Linguistic Analyses in Language Policies 170
Ruth Wodak
11 Geolinguistic Analysis in Language Policy 194
Don Cartwright
12 Psycho-Sociological Analysis in Language Policy 210
Colin Baker
Part III Topical Areas in Language Policy 229
Topical Areas in Language Policy: An Overview 231
Thomas Ricento
13 Language Policy and National Identity 238
Jan Blommaert
14 Language Policy and Minority Rights 255
Stephen May
15 Language Policy and Linguistic Human Rights 273
Tove Skutnabb-Kangas
16 Language Policies and the Education of Linguistic Minorities 292
Christina Bratt Paulston and Kai Heidemann
17 Language Policy and Language Shift 311
Joshua A. Fishman
18 Language Policy and Sign Languages 329
Timothy Reagan
19 Language Policy and Linguistic Imperialism 346
Robert Phillipson
Index 362
Reviews
"The book certainly succeeds in moving the field forward - not only by providing a varied range of topics... but also by exposing the reader to 'controversies' in the field... The volume is well-written, well-edited and provides a wealth of information for linguists and non-linguists alike."
Linguist List <!--end-->
"International in coverage, imaginative in scope, this volume offers a comprehensive discussion of language planning and policy by renowned scholars. With copious references to assist readers in locating current resources, all contributions offer exciting possibilities as points of departure for lively discussion and productive research."
Mary McGroarty, Northern Arizona University

"This is an excellent book that provides an accessible introduction to current issues without losing any of the complexity of the debate."
Sue Wright, Aston University

"The collection is very well written and likely to be of use bth to readers with a central interest in language planning and to those studying or researching in cognative areas."
Educational Review

"This book sets the benchmark on how to make such a vital subject approachable whilst not sacrificing intellectual rigour."
Journal of Sociolinguistics
Features


provides an accessible introduction to the study of language policy research and language's role in social life

consists of newly commissioned essays written by internationally recognized scholars

helps define and describe a growing field of inquiry and is an authoritative source for students, scholars and researchers in linguistics, applied linguistics, education, policy studies and related areas

includes section overviews, annotated chapter bibliographies, and discussion questions