An Introduction to Materials Science and Engineering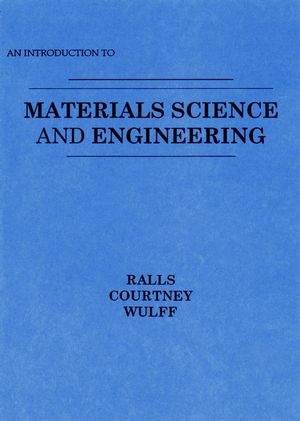 An Introduction to Materials Science and Engineering
ISBN: 978-0-471-70665-6 September 1976 688 Pages
Description
Ralls' Introduction to Materials Science and Engineering is intended for students who want to learn about the nature of solid substances and, especially, for beginning engineering students who are making their first serious contact with the structure and properties of real solids. It represents, clearly and logically, the chemical and physical principles on which the properties of materials depend. The basic relationships introduced in general chemistry and physics courses are reviewed and extended in order to permit the student to relate the properties of ceramic, metallic, and polymeric solids to their internal structure and external environment.
Table of contents
Matter and Energy.
Atomic Structure.
Chemical Bonding.
Molecular Orbitals.
Inorganic Compounds.
Polymers.
Organic Solids.
Metals.
Crystal Geometry.
Structural Imperfections.
Surfaces and Interfaces.
Diffusion.
Chemical Equilibrium and Reaction Rates.
Electrochemical Reactions.
Corrosion and Oxidation.
Phase Diagrams.
Phase Transformations.
Structural and Property Changes.
Elastic Behavior.
Permanent Deformation.
Mechanical Failure.
Electrical Conduction in Solids.
Semiconductors.
Thermal Properties of Materials.
Magnetic Behavior.
Dielectric Materials.
Optical Properties.
Index of Specific Materials and Substances.
Index of Subjects.