An Introduction to Work and Organizational Psychology: A European Perspective, 2nd Edition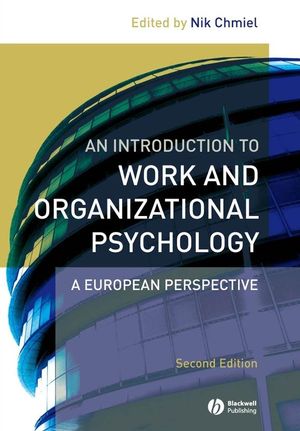 An Introduction to Work and Organizational Psychology: A European Perspective, 2nd Edition
ISBN: 978-1-405-13276-3
Jun 2008, Wiley-Blackwell
578 pages
Product not available for purchase
Description
This fully updated edition of a best-selling textbook continues to provide the most comprehensive European introduction to issues in work and organisational psychology for those with no prior knowledge of the field.
Presents a solid foundation on a range of core topics including working with technology, human performance, and the virtual organization.
Updated throughout to include recently emerging themes and current views in the field
Improved instructor and student support includes key studies, research close-ups, discussion points and three extensive case studies
List of Contributors.
Introduction (Nik Chmiel).
Part I: People at Work.
1 Work Profi ling and Job Analysis (Dave Bartram).
2 Work Motivation (Guido Hertel and Marion Wittchen).
3 Learning and Training at Work (Sabine Sonnentag, Cornelia Niessen, and Sandra Ohly).
4 Performance Appraisal: Assessing and Developing Performance and Potential (Clive Fletcher).
5 Careers and Aging at Work (Franco Fraccaroli and Marco Depolo).
6 Job Stress and Occupational Health (Pascale Le Blanc, Jan de Jonge, and Wilmar Schaufeli).
Part II: Working with Technology.
7 Design and Use of Work Technology (Jan Noyes).
8 Demanding Work, Technology, and Human Performance (Andrew J. Tattersall and G. Robert J. Hockey).
9 Telework (Noel Sheehy).
10 Virtual Team-Working and Collaboration Technology (Matti Vartiainen and J. H. Erik Andriessen).
11 Organizations, Technology, and Safety (Nik Chmiel).
Part III: Organizations at Work.
12 Staffi ng the Organization: An Introduction to Personnel Selection and Assessment (Neil Anderson, Jesus Salgado, Sonja Schinkel, and Nicole Cunningham-Snell).
13 Leadership in Organizations (Felix C. Brodbeck).
14 Effective Teams in Organizations (Michael A. West).
15 Strategic Management (Gerard P. Hodgkinson).
16 Organizational Development and Change (José M. Peiró and Vicente Martínez-Tur).
17 Mergers and Acquisitions through Perspectives of Work and Organizational Psychology and Management (Handan Kepir Sinangil and Asli Kuçukaslan).
Part IV: Theory and Application.
18 The Changing Nature of Work (Michael Frese).
19 Creating Inclusive Organizations (Binna Kandola).
20 Roles and Methods of Work and Organizational Psychology Practitioners (Henry Honkanen and Ute Schmidt-Brasse).
Case Study A: The Benefi ts of Ongoing Stress Risk Assessment: A Law Enforcement Case Study (Ivan Robertson, Susannah Robertson, and Chris Lewis).
Case Study B: Designing Technology for Work and Home Applications (Juergen Sauer and Bruno Ruettinger).
Case Study C: Designing a Longitudinal Study to Monitor the Perceptions of the First Recruits to the Police Service of Northern Ireland (Micaela McGinley and Kerri McDonnell).
References.
Index.


Fully updated second edition of the best-selling textbook on work and organizational psychology, providing the most comprehensive European introduction to issues in the field

Presents a solid foundation on a range of core topics including working with technology, human performance and the virtual organization, along with recently emerging themes and current perspectives

Includes more substantial case studies, an increased use of graphics, a full range of instructor support and state-of-the-art pedagogical features