An Introduction to the Old Testament: Sacred Texts and Imperial Contexts of the Hebrew Bible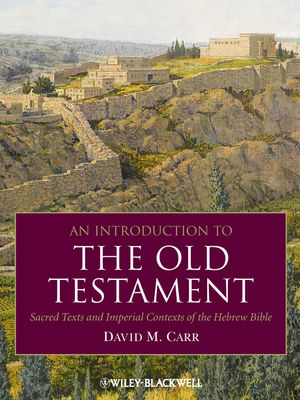 An Introduction to the Old Testament: Sacred Texts and Imperial Contexts of the Hebrew Bible
ISBN: 978-1-405-18467-0
Mar 2010, Wiley-Blackwell
296 pages
Description
This comprehensive, introductory textbook is unique in exploring the emergence of the Hebrew Bible in the broader context of world history. It particularly focuses on the influence of pre-Roman empires, empowering students with a richer understanding of Old Testament historiography.
Provides a historical context for students learning about the development and changing interpretations of biblical texts

Examines how these early stories were variously shaped by interaction with the Mesopotamian and Egyptian, Assyrian, Babylonian, Persian, and Hellenistic empires

Incorporates recent research on the formation of the Pentateuch

Reveals how key biblical texts came to be interpreted by Jewish, Christian, and Muslim faiths

Includes numerous student-friendly features, such as study questions, review sections, bibliographies, timelines, and illustrations and photos
Buy Both and Save 25%!
Original Price:$108.90
Purchased together:$81.68
save $27.22
Cannot be combined with any other offers.
List of Figures vi
List of Maps viii
List of Boxes ix
Preface xii
Acknowledgments xiv
List of Abbreviations xvi
Overview of the Historical Period xvii
Timeline xviii
Prologue: Orientation to Multiple Bibles and Multiple Translations 1
1 Studying the Bible in Its Ancient Context(s) 15
2 The Emergence of Ancient Israel and Its First Oral Traditions 33
3 The Emergence of the Monarchy and Royal and Zion Texts 53
4 Echoes of Past Empires in Biblical Wisdom, Love Poetry, Law, and Narrative 71
5 Narrative and Prophecy amidst the Rise and Fall of the Northern Kingdom 91
6 Micah, Isaiah, and the Southern Prophetic Encounter with Assyria 115
7 Torah and History in the Wake of the Assyrian Empire 131
8 Prophecy in the Transition from Assyrian to Babylonian Domination 153
9 Laments, History, and Prophecies after the Destruction of Jerusalem 165
10 The Pentateuch and the Exile 187
11 The Torah, the Psalms, and the Persian-Sponsored Rebuilding of Judah 207
12 Other Texts Formed in the Crucible of Post-Exilic Rebuilding 229
13 Hellenistic Empires and the Formation of the Hebrew Bible 245
Glossary 264
Index 273
"Carr's book is an excellent introduction to what mainstream (non-evangelical) scholars have come to believe about ancient Israel's literary history." (International Review of Biblical Studies, 2010)

Offers readers a balanced and informative introduction to the forces that shaped the Old Testament by exploring the emergence of the Hebrew Bible in the broader context of world history.

Provides a historical context for students learning about the development and changing interpretations of biblical texts, empowering them with a richer understanding of the Old Testament

Examines how these early stories were variously shaped by interaction with the Mesopotamian and Egyptian, Assyrian, Babylonian, Persian, and Hellenistic empires

Incorporates recent research on the formation of the Pentateuch – the first introductory textbook of its kind to do so – and reveals how key biblical texts came to be interpreted by Jewish, Christian, and Muslim faiths

Includes numerous student-friendly features, including study questions, review sections, bibliographies, timelines, and illustrations and photos