Analysing Interactions in Childhood: Insights from Conversation Analysis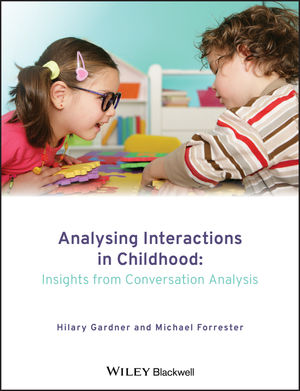 Analysing Interactions in Childhood: Insights from Conversation Analysis
ISBN: 978-0-470-68709-3
Dec 2009
29496 pages
Description
Offers a fresh perspective on how conversation analysis can be used to highlight the sophisticated nature of what children actually do when interacting with their peers, parents, and other adults.
Brings together a contributor team of leading experts in the emerging field of child-focused conversation analytic studies, from both academic and professional research backgrounds
Includes examples of typically developing children and those who face a variety of challenges to participation, as they interact with parents and friends, teachers, counsellors and health professionals
Encompasses linguistic, psychological and sociological perspectives
Offers new insights into children's communication as they move from home into wider society, highlighting how this is expressed in different cultural contexts
Foreword (
Elena Lieven
).
Introduction.
Contributors.
SECTION 1 INTERACTIONS BETWEEN TYPICALLY DEVELOPING CHILDREN AND THEIR MAIN CARERS.
1 Next turn and intersubjectivity in children's language acquisition (Clare Tarplee).
2 Hm? What? Maternal repair and early child talk (Juliette Corrin).
3 Ethnomethodology and adult–child conversation: Whose development? (Michael Forrester).
4 'Actually' and the sequential skills of a two-year-old (Anthony Wootton).
5 Children's emerging and developing self-repair practices (Minna Laakso).
SECTION 2 CHILDHOOD INTERACTIONS IN A WIDER SOCIAL WORLD.
6 Questioning repeats in the talk of four-year-old children (Jack Sidnell).
7 Children's participation in their primary care consultations (Patricia Cahill).
8 Feelings-talk and therapeutic vision in child–counsellor interaction (Ian Hutchby).
9 Intersubjectivity and misunderstanding in adult–child learning conversations (Chris Pike).
SECTION 3 INTERACTIONS WITH CHILDREN WHO ARE ATYPICAL 183
10 Interactional analysis of scaffolding in a mathematical task in ASD (Penny Stribling and John Rae).
11 Multi-modal participation in storybook sharing (Julie Radford and Merle Mahon).
12 Child-initiated repair in task interactions (Tuula Tykkyläinen).
13 Communication aid use in children's conversation: Time, timing and speaker transfer (Michael Clarke and Ray Wilkinson).
Glossary of transcript symbols.
Index.
"It is an extremely well-edited and well-balanced book with high quality contributions from the various authors. As such, it is well placed to achieve its aim of enhancing the impact of CA as a discipline by expanding into developmental and applied areas of research."  (Discourse Studies, 2012)
""With lengthy chapters and quality evaluations, this is a thought-provoking book but one not for the faint hearted! It is aimed at academics and students who want up-to-date information."" (Speech & Language Therapy in Practice, 1 September 2011)