Analysis of Financial Statements, 2nd Edition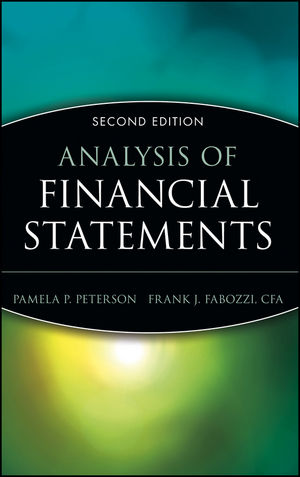 Analysis of Financial Statements, 2nd Edition
ISBN: 978-0-471-91447-1 June 2012 294 Pages
Description
Revised and up to date, the Second Edition includes valuable information that addresses questions such as:
* What is transparency and why do we care?
* How can financial statements inform investors?
* How can financial statements mislead investors?
* How has the Sarbanes-Oxley Act changed companies' financial disclosures?
* What should you look for in financial disclosures when judging a company's financial health?
* How do financial statements relate to the value of a company's stock?
* Why is cash flow so important to a company's financial health?

Throughout Analysis of Financial Statements, Second Edition, the authors demonstrate the nuts and bolts of financial analysis by applying the techniques to actual companies. The authors set the stage for financial analysis in Part One with their discussions of financial statements and the quality of financial statements. In Part Two, they walk you through how to judge a company's financial health using financial disclosures in financial ratio analysis, earnings analysis, and cash flow analysis. In Part Three, the authors take analysis a step further by discussing how investors and creditors can use financial statements to more effectively assess a company's performance and risk. Peterson and Fabozzi wrap up this Second Edition with a set of lessons for investors and analysts:

Lesson 1: Understand what you are looking at
Lesson 2: Read the fine print
Lesson 3: If it's too good to be true, it may be
Lesson 4: Follow the money
Lesson 5: Understand the risks
Preface.
About the Authors.
PART ONE: THE BASICS.
Chapter 1. Introduction.
Chapter 2. Financial Statements.
Chapter 3. The Quality of Financial Information.
PART TWO: ANALYSIS OF FINANCIAL STATEMENTS.
Chapter 4. Financial Analysis.
Chapter 5. Equity Analysis.
Chapter 6. Cash Flow Analysis.
PART THREE: APPLYING FINANCIAL ANALYSIS.
Chapter 7. Measuring Company Performance.
Chapter 8. Credit Analysis.
Chapter 9. Analysis of Risk Using Fundamentals.
Chapter 10. The Lessons We Learn.
Index.
Strong author platform. The trusted author team of Peterson and Fabozzi are updating Analysis of Financial Statements to reflect the changes in the industy over the past five years.

Update of an important and rapidly changing topic. The accounting world has been stormy of late.  Peterson and Fabozzi offer examples and updates from the world of financial statement analysis such as relating financial statement analysis to valuation, a short coverage of recent scandals and the effect of Sarbanes-Oxley, added emphasis on revenue recognition issues, distinguishing pro-forma from GAAP, simplifying models, and expanding on different earnings amounts. 

More comprehensive scope.  Peterson and Fabozzi present a reorganization of the existing material in order to streamline the text to accomodate the updates.  Discussion of material within specific chapters is now broadened and used in cross-reference and/or moved to new chapters to contain ideas.