Analysis of Vertebrate Structure, 5th Edition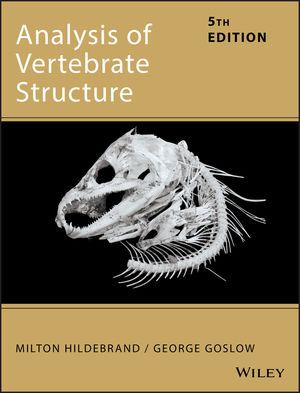 Analysis of Vertebrate Structure, 5th Edition
ISBN: 978-0-471-29505-1
Mar 1998
660 pages
Description
This world-renowned text describes the anatomy of the major structural and behavioral groups of vertebrate animals, interpreting their form in terms of evolution and adaptation to habit and habitat. The presentation is sound and solid yet not so long and detailed as to overwhelm students. Designed for use in a one-term course in the structural analysis of vertebrates.
Milton Hildebrand is extremely well known in the field especially for his collection of specimens that are now housed at the Museum of Vertebrate Zoology at UC Berkeley. The chapter opening photos in the text are of these specimens from the collection. The photographs were taken by a National Geographic photographer.
INTRODUCTION.

The Nature Of Vertebrates Morphology.

SURVEY OF VERTEBRATE ANIMALS: THE PRINCIPAL STRUCTURAL PATTERNS.

Nature, Origins, and Classification of Vertebrates.

Fishes.

Tetrapods.

THE PHYLOGENY AND ONTOGENY OF STRUCTURE: EVOLUTION IN RELATION TO TIME AND MAJOR TAXA.

Early Development.

Integument and Its Derivatives.

Teeth.

Head Skeleton.

Body Skeleton.

Muscles and Electric Organs.

Coelom and Mesenteries.

Digestive System.

Respiratory System and Gas Bladder.

Circulatory System.

Excretory System and Osmoregulation.

Reproductive System and Urogenital Ducts.

Nervous System: General, Spinal Cord, and Perpheral Nerves.

Nervous System: Brain.

Sense Organs.

Endocrine Glands.

STRUCTURAL ADAPTATION: EVOLUTION IN RELATION TO HABIT AND HABITAT.

Structural Elements of the Body.

Mechanics of Support and Movement.

Form, Function, and Body Size.

Running and Jumping.

Digging, and Crawling without Appendages.

Climbing.

Swimming and Diving.

Flying and Gliding.

Energetics and Locomotion.

Feeding.

Appendix: Anatomical Preparations.

Glossary.

Index.
Boxes called "Concepts" are used to evaluate points of controversy, note inadequately understood phenomena, provide deeper analysis of basic concepts, and give historical perspective to ongoing analyses.
The entire text has been updated throughout to giving special attention to those subjects where recent and current research needed inclusion.
New appendix on techniques for anatomical preparations. This appendix was prepared in a similar manner to the classic text by Hildebrand, Anatomical Preparations.
New Co-author, George Goslow has joined this new edition. Prof. Goslow adds years of experience teaching this course.
A clear and concise presentation of the material that is well organized and integrated. Includes enough material for a serious upper level text, but no so much as to overwhelm the students.
Presents the material in a functional approach to morphology. Treatment is unique as to organization, thoroughness, and extent of biomechanical analysis.
The illustration program is of the highest quality and is virtually all original art specifically rendered for this text. Many competing texts have actually secured rights to use Hildebrand's art in their texts. One can easily flip through and find credits in competing texts that indicate they came from our text. As this is an anatomy text, line drawings and illustrations are crucial in students understanding.
Includes structure interpretations according to various feeding and locomotor adaptations. This material is written in a way that it can be used for selective assignments or omitted if the instructor does not have enough time to cover and discuss.