Analytical Chemistry: A Guided Inquiry Approach Instrumental Analysis Collection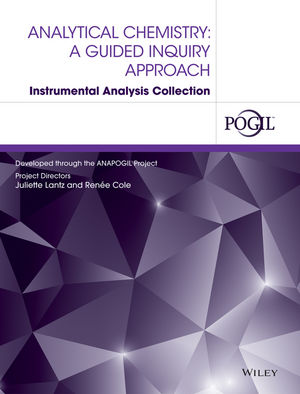 Analytical Chemistry: A Guided Inquiry Approach Instrumental Analysis Collection
ISBN: 978-1-119-06509-8 December 2014 300 Pages
Description
An essential guide to inquiry approach instrumental analysis
Analytical Chemistry offers an essential guide to inquiry approach instrumental analysis collection. The book focuses on more in-depth coverage and information about an inquiry approach. This authoritative guide reviews the basic principles and techniques. Topics covered include: method of standard; the microscopic view of electrochemistry; calculating cell potentials; the BerriLambert; atomic and molecular absorption processes; vibrational modes; mass spectra interpretation; and much more.
pg.     Analytical Tools
9         Sample Preparation
21       Instrumental Calibration
35       Quality Assurance Measures
45       Instrumental Calibration: Method of Standard Additions
71       Interlaboratory Comparisons
85       Instrumental Calibration: Method of Internal Standards
93       Sampling Error and Sampling Designs
Statistics
107      Errors in Measurements and Their Effect on Data Sets
117      Linear Regression for Calibration of Instruments
Electrochemistry
129       Electrochemistry: The Microscopic View of Electrochemistry
147       Electrochemistry: Calculating Cell Potentials
Spectrometry
169       The Beer-Lambert Law
181        Atomic and Molecular Absorption Processes
193        Infrared Spectroscopy: Vibrational Modes
207        Introduction to Absorption Spectrophotometers
225        Mass Spectra Interpretation
Chromatography and Separation
243        Introduction to Chromatography
253        Band Broadening Effects in Chromatography
263        Gas Chromatography or HPLC, Which Do You Choose?
275        Introduction to Gel Filtration Chromatography


289       ANA-POGIL Project Activities: Topics and Learning Goals
297       ANA-POGIL Activities & Analytical Texts Mapping