Analytical Method Validation and Instrument Performance Verification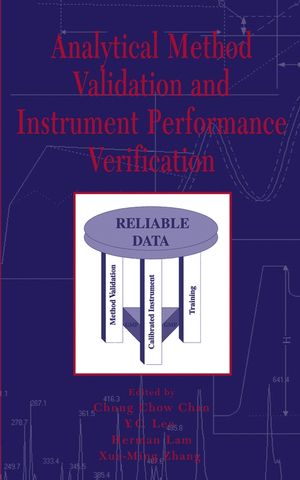 Analytical Method Validation and Instrument Performance Verification
ISBN: 978-0-471-25953-4
Jan 2004
320 pages
Description
Validation describes the procedures used to analyze pharmaceutical products so that the data generated will comply with the requirements of regulatory bodies of the US, Canada, Europe and Japan. Calibration of Instruments describes the process of fixing, checking or correcting the graduations of instruments so that they comply with those regulatory bodies. This book provides a thorough explanation of both the fundamental and practical aspects of biopharmaceutical and bioanalytical methods validation. It teaches the proper procedures for using the tools and analysis methods in a regulated lab setting. Readers will learn the appropriate procedures for calibration of laboratory instrumentation and validation of analytical methods of analysis. These procedures must be executed properly in all regulated laboratories, including pharmaceutical and biopharmaceutical laboratories, clinical testing laboratories (hospitals, medical offices) and in food and cosmetic testing laboratories.
Contributors.
Preface.
1. Overview of Pharmaceutical Product Development and Its Associated Quality System (C. Chan & E. Jensen).
2. Potency Method Validation (C. Chan).
3. Method Validation for HPLC Analysis of Related Substances in Pharmaceutical Drug Products (Y. Lee).
4. Dissolution Method Validation (C. Chan, et al.).
5. Development and Validation of Automated Methods (C. Incledon & H. Lam).
6. Analysis of Pharmaceutical Inactive Ingredients (X. Zhang).
7. Validation Study of JP Heavy Metal Limit Test (Y. Nishiyama).
8. Bioanalytical Method Validation (F. Garofolo).
9. Procurement, Qualification, and Calibration of Laboratory Instruments: An Overview (H. Lam).
10. Performance Verification of UV-Vis Spectrophotometers (H. Lam).
11. Performance Verification of  HPLC (H. Lam).
12. Operational Qualification of a Capillary Electrophoresis Instrument (N. Baryla).
13. LC-MS Instrument Calibration (F. Garofolo).
14. Karl Fisher Apparatus and Its Performance Verification (R. Jairam, et al.).
15. The pH Meter and Its Performance Verification (Y. Tse, et al.).
16. Qualification of Environmental Chambers (G. Wong & H. Lam).
17. Equipment Qualification and Computer System Validation (L. Huber).
18. Validation of Excel Spreadsheet (H. Brunner).
Index.
"It is a treasure of helpful hints and techniques which can aid even experienced analysts through some of the ICH procedures."  (
Metrohm Information
, 4th July 2005)
"While most useful for pharmaceutical laboratories, it may also be useful in certain university and government laboratories." (E-STREAMS, February 2005)
"…a treasure of helpful hints and techniques that can aid even experienced analysts through some of the ICH procedures." (Inside Laboratory Management, July/August 2004)
"Given the need for generating reliable analytical data, this book provides practical guidance for validating common and not-so-common analytical methods and for verifying the performance of instruments…" (Journal of the American Chemical Society, June 9, 2004)
"…a very useful reference text…warmly recommended" (Organic Process Research & Development Journal)