Anchorage in Concrete Construction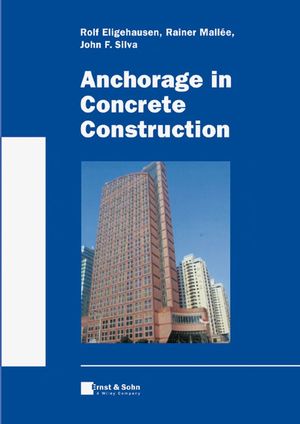 Anchorage in Concrete Construction
ISBN: 978-3-433-01143-0
Mar 2006
391 pages
Description
A comprehensive treatment of current fastening technology using inserts (anchor channels, headed stud), anchors (metal expansion anchor, undercut anchor, bonded anchor, concrete screw and plastic anchor) as well as power actuated fasteners in concrete. It describes in detail the fastening elements as well as their effects and load-bearing capacities in cracked and non-cracked concrete. It further focuses on corrosion behaviour, fire resistance and characteristics with earthquakes and shocks. It finishes off with the design of fastenings according to the European Technical Approval Guideline (ETAG 001), the Final Draft of the CEN Technical Specification 'Design of fastenings for use in concrete' and the American Standards ACI 318-05, Appendix D and ACI 349-01, Appendix B.
Buy Both and Save 25%!
Original Price:$370.00
Purchased together:$277.50
save $92.50
Cannot be combined with any other offers.
1 Introduction 1
1.1 A historical review 1
1.2 Requirements for fastenings 2
1.3 Nature and direction of actions 2
2 Fastening systems 5
2.1 General 5
2.2 Cast-in-place systems 5
2.3 Drilled-in systems 10
2.4 Direct installation 29
3 Principles 33
3.1 General 33
3.2 Behaviour of concrete in tension 34
3.3 Failure mechanisms of fastenings 37
3.4 Cracked concrete 51
3.5 Why anchors may use the tensile strength of concrete 54
3.6 Prestressing of anchors 55
3.7 Loads on anchors 58
4 Behaviour of headed studs, undercut anchors and metal expansion anchors in non-cracked and cracked concrete 65
4.1 Non-cracked concrete 65
4.2 Cracked concrete 142
5 Behaviour of cast-in anchor channels in non-cracked and cracked concrete 163
5.1 Non-cracked concrete 163
5.2 Cracked concrete 179
6 Behaviour of bonded anchors in non-cracked and cracked concrete 181
6.1 Non-cracked concrete 181
6.2 Cracked concrete 204
6.3 Bonded undercut anchors and bonded expansion anchors 208
7 Behaviour of plastic anchors in non-cracked and cracked concrete 211
7.1 Non-cracked concrete 211
7.2 Cracked concrete 220
8 Behaviour of power actuated fasteners in non-cracked and cracked concrete 223
8.1 Non-cracked concrete 223
8.2 Cracked concrete 225
9 Behaviour of screw anchors in non-cracked and cracked concrete 227
9.1 Installation 227
9.2 Non-cracked concrete 231
9.3 Cracked concrete 234
10 Behaviour of anchors under seismic loading 237
10.1 Anchor applications 237
10.2 Seismic actions 238
10.4 Behaviour of anchors under seismic conditions 240
11 Behaviour of anchors in fire 249
12 Corrosion of anchors 255
13 Influence of fastenings on the capacity of components in which they are installed 259
14 Design of fastenings 265
14.1 General 265
14.2 Verifying the suitability of an anchor system 266
14.3 Design of fastenings with post-installed metal expansion, undercut and bonded expansion anchors according to the EOTA Guideline 267
14.4 Design of fastenings according to the CEN Technical Specification 283
14.5 Design of fastenings with cast-in and post-installed metal anchors according to ACI 318-05 Appendix D 330
References 343
Subject Index 371