Ancient Greece from Homer to Alexander: The Evidence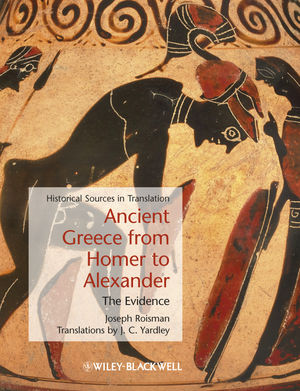 Ancient Greece from Homer to Alexander: The Evidence
ISBN: 978-1-118-30095-4
Dec 2011, Wiley-Blackwell
176 pages
Description
With fresh, new translations and extensive introductions and annotations, this sourcebook provides an inclusive and integrated view of Greek history, from Homer to Alexander the Great.
New translations of original sources are contextualized by insightful introductions and annotations
Includes a range of literary, artistic and material evidence from the Homeric, Archaic and Classical Ages
Focuses on important developments as well as specific themes to create an integrated perspective on the period
Links the political and social history of the Greeks to their intellectual accomplishments
Includes an up-to-date bibliography of seminal scholarship
An accompanying website offers additional evidence and explanations, as well as links to useful online resources

List of Illustrations.
List of Maps.
Preface and Acknowledgments.
How to Use This Book.
Abbreviations.
Glossary.
Greek Weights, Measures, Coins, and the Athenian Calendar.
Timeline.
Introduction: The Evidence for Greek History and Culture.
1. The World of Homer.
2. The World of Hesiod.
3. The Early Greek Polis (City-State), Ethnos and Federal States.
4. Settlements Across the Sea: Greek "Colonization".
5. Aristocratic Power and Attitudes.
6. Archaic Tyranny.
7. Archaic and Classical Sparta.
8. Hoplites and Their Values.
9. Archaic Athens From Draco to Solon.
10. Tyranny in Athens.
11. Cleisthenes and Athenian Democracy (508/7).
12. Archaic Society and Culture: Gender, Sexuality, Banquet and Competition.
13. Archaic Law.
14. Archaic Greek Religion.
15. The Ionian Revolt: Persians and Greeks.
16. The Battle of Marathon (490).
17. The Persian War (480-79).
18. The Athenian Empire.
19. Empowering Athenian Democracy (462/1-451/0).
20. War and Peace in Greece (461/0-437/6).
21. The Administration of the Empire and the Athenian Tribute Quota Lists.
22. The City of Athens.
23. The Sophists, Athenian Democracy and Its Critics.
24. The Causes of the Peloponnesian War and the Athenian and Spartan Strategies.
25. The Peloponnesian War: The Archidamian War (431-21).
26. Finances and Allies During the Archidamian War.
27. The Uneasy Peace and the Sicilian Expedition (421-413).
28. The Peloponnesian War: the Decelean War (413-404).
29. The Rule of the Thirty, The Athenian Amnesty and Socrates' Trial.
30. Sparta After The Peloponnesian War: Politics, Wealth and Demography.
31. The Spartan Hegemony, the Corinthian War and the Peace of Antalcidas (404/3-388/7).
32. From the Peace of Antalcidas (387) to the Battle of Leuctra and Its Aftermath (371).
33. Jason of Pherae (? – 370).
34. Athenian Imperialism and Theban Hegemony.
35. Running the Athenian Polis: Politics, Finances, Grain and Trade in the Fourth Century.
36. Metics (Resident Aliens), Slaves and Barbarians.
37. Masculine and Feminine Gender in Classical Athens.
38. Philip II of Macedonia (359-336).
39. Alexander the Great (336-323).
Bibliography.
Index of Ancient Sources.
General Index.
"A welcome contribution to introductory studies on Greek history, and aims at presenting not just the historical narration but also the primary sources on which history is based... Whatever their background, all readers will benefit from this study, since Roisman manages to cover thoroughly the main aspects of each period. In addition to the historical narrative the book is supplemented with the basic secondary literature, the primary sources and, clearly one of its strengths, e- sources on the web. Thus, the reader gets a good idea both of the valid scholarly views and of what material exists on the internet to support these views. This work is surely a first step for everyone who wishes to explore Greek history. Finally, what is most helpful and educative is that Roisman's study lets the facts speak for themselves so that readers can form their own opinion about them. It seems that this kind of self-learning is the organising principle of the book. To my knowledge this is the first study of this kind, and I would strongly recommend its translation into other languages so that more students and the general public can benefit from it."  (Panagiotis Paraskevas, Bryn Mawr Classical Review, 1 October 2012)
"Headlined 'Historical Sources in Translation', this substantial 642-page annotated sourcebook is just the thing to place in the hands of bright sixth-form students doing the OCR AS/A2 Ancient History paper, or of undergraduates enjoying the proliferating Classical Studies courses at university." (The Anglo-Hellenic Review, Autumn 2011)
New translations of original sources are contextualized by insightful introductions and annotations

Includes a range of literary, artistic and material evidence from the Homeric, Archaic and Classical Ages.

Focuses on important developments as well as specific themes to create an integrated perspective on the period

Links the political and social history of the Greeks to their intellectual accomplishments

Includes an up-to-date bibliography of seminal scholarship

An accompanying website offers additional evidence and explanations, as well as links to useful online resources