Ancient Greek Divination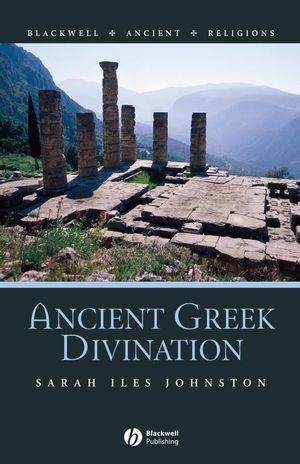 Ancient Greek Divination
ISBN: 978-1-444-30299-8 March 2009 Wiley-Blackwell 208 Pages
Description
The first English-language survey of ancient Greek divinatory methods, Ancient Greek Divination offers a broad yet detailed treatment of the earliest attempts by ancient Greeks to seek the counsel of the gods.



Offers in-depth discussions of oracles, wandering diviners, do-it-yourself methods of foretelling the future, magical divinatory techniques, and much more

Illustrates how the study of divination illuminates the mentalities of ancient Greek religions and societies
List of Figures.
Acknowledgments.
List of Abbreviations.
1. Why Divination?.
2. The Divine Experience Part One: Delphi and Dodona.
3. The Divine Experience Part Two: Claros, Didyma and Others.
4. Freelance Divination: The Mantis.
5. The Mantis and the Magician.
Index Locorum.
Subject Index
"It is, in fact, difficult to find fault with this work." (
Aestimatio: Critical Reviews in the History of Science,
June 2010)
"This is a very accessible volume that explores the complicated roles and methods of divination throughout the Greek world. Johnston successfully elucidates the uses, importance, and pliancy of divination in the ancient world using both Greek and Roman sources. She bravely approaches this inherently vague realm and has created a text that is very useful in its breadth and scope." (Religious Studies Review, June 2010)
"Johnston has made a fine exposition and analysis of a wide variety of ancient evidence, well-supported by current scholarship and her own careful interpretations." (Bryn Mawr Classical Review, May 2009)
"With Ancient Greek Divination, Johnston makes another outstanding contribution to the study of Greek religion." (Choice Reviews, May 2009)


The first English-language survey of ancient Greek divinatory methods

Offers in-depth discussions of oracles, wandering diviners, do-it-yourself methods of foretelling the future, magical divinatory techniques, and much more

Illustrates how the study of divination illuminates the mentalities of ancient Greek religions and societies