Ancient Greek Philosophy: From the Presocratics to the Hellenistic Philosophers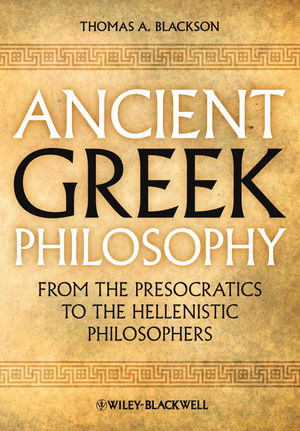 Ancient Greek Philosophy: From the Presocratics to the Hellenistic Philosophers
ISBN: 978-1-444-33573-6 March 2011 Wiley-Blackwell 288 Pages
Description
Ancient Greek Philosophy: From the Presocratics to the Hellenistic Philosophers
presents a comprehensive introduction to the philosophers and philosophical traditions that developed in ancient Greece from 585 BC to 529 AD.
Provides coverage of the Presocratics through the Hellenistic philosophers
Moves beyond traditional textbooks that conclude with Aristotle
A uniquely balanced organization of exposition, choice excerpts and commentary, informed by classroom feedback
Contextual commentary traces the development of lines of thought through the period, ideal for students new to the discipline
Can be used in conjunction with the online resources found at http://tomblackson.com/Ancient/toc.html
Buy Both and Save 25%!
This item: Ancient Greek Philosophy: From the Presocratics to the Hellenistic Philosophers
A Companion to Aristotle (Paperback $55.95)
Cannot be combined with any other offers.
Original Price:$95.90
Purchased together:$71.93
save $23.97
Table of contents
Preface.
Acknowledgments.
Text Acknowledgments.
Introduction.
Part I: The Presocratics.
Timeline.
1. The Milesian Revolution.
1.1. The Milesians Turn to Nature.
1.2. Parmenides.
1.3. A Defense of the Inquiry into Nature.
Further Reading for Part I.
Part II: Socrates.
Timeline.
2. The Good Life.
2.1. Definitions.
2.2. The Love of Wisdom.
2.3. Intellectualism.
3. Against the Sophists.
3.1. The Sophists Come to Athens.
3.2. The Sophist Sells Teachings for the Soul.
3.3. Rhetoric is Blind to the Good.
Further Reading for Part II.
Part III: Plato.
4. Three Platonic Theories.
4.1. The Theory of Recollection.
4.2. The Theory of Forms.
4.2. The Tripartite Theory of the Soul.
5. Justice and its Reward.
5.1. The Opening Conversation.
5.2. Justice.
5.3. The Just Life is Better . ..
Further Reading for Part III.
Part IV: Aristotle.
6. Second Philosophy.
6.1. Natural Bodies and their Specific Behaviors.
6.2. Natures are Forms.
6.3. Teleology in Nature.
7. Psychology.
7.1. The Soul is the Form of the Body.
7.2. Induction.
7.3. Becoming like the Unmovable First Mover.
8. First Philosophy.
8.1. The Science of Being.
8.2. Substances are Forms.
8.3. No Universal is a Substance.
9. Ethics..
9.1. The Function Argument.
9.2. Theoretical Wisdom.
9.3. Practical Wisdom.
Further Reading for Part IV.
Part V: Hellenistic Philosophers.
Timeline.
10. Reaction to the Classical Tradition.
10.1. Epicureanism.
10.2. Stoicism.
10.3. Skepticism.
Further Reading for Part V.
References.
Index of Passages.
General Index.
Reviews
"Thomas Blackson's Ancient Greek Philosophy is an introductory-level overview of philosophy from the Presocratic through the Hellenistic periods.  It would serve as an ideal companion for a Survey of Ancient Philosophy course.  B.'s prose is lucid and accessible, his interpretations of many of the texts are compelling and interlace nicely, and he provides informative footnotes and annotations.  This is a very useful book."  (Classical Review, 2012)
"Recommended.  Lower-and upper-level undergraduates."  (Choice, 1 May 2012)
Features
Provides coverage of the Presocratics through the Hellenistic philosophers
Moves beyond traditional textbooks that conclude with Aristotle
A uniquely balanced organization of original source material with depth of commentary, informed by classroom feedback
Contextual commentary traces the development of lines of thought through the period, ideal for students new to the discipline
Can be used in conjunction with the online resources found at

http://tab.faculty.asu.edu/toc.html