Ancient Greek Religion, 2nd Edition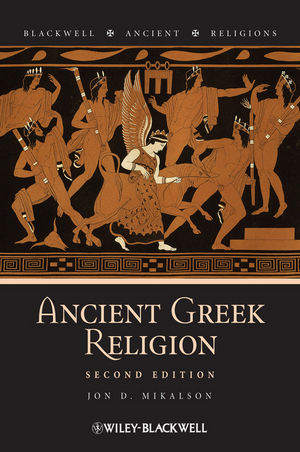 Ancient Greek Religion, 2nd Edition
ISBN: 978-1-444-35819-3 September 2011 Wiley-Blackwell 256 Pages
Description
Ancient Greek Religion
provides an introduction to the fundamental beliefs, practices, and major deities of Greek religion.
Focuses on Athens in the classical period
Includes detailed discussion of Greek gods and heroes, myth and cult, and vivid descriptions of Greek religion as it was practiced
Ancient texts are presented in boxes to promote thought and discussion, and abundant illustrations help readers visualize the rich and varied religious life of ancient Greece
Revised edition includes additional boxed texts and bibliography, an 8-page color plate section, a new discussion of the nature of Greek "piety," and a new chapter on Greek Religion and Greek Culture
Table of contents
List of color plates.
List of figures.
List of maps.
Preface.
Abbreviations.
1. An Overview: Greek Sanctuaries and Worship.
2. Greek Gods, Heroes, and Polytheism.
3. Seven Greek Cult Myths.
4. Five Major Greek Cults.
5. Religion in the Greek Family and Village.
6. Religion of the Greek City-State.
7. Greek Religion and the Individual.
8. Greek Religion in the Hellenistic Period.
9. Greek Religion and Greek Culture.
10. Glossary of recurring Greek terms.
Index.
New To This Edition
Revised edition includes additional boxed texts and bibliography, an 8 page color plate section, a new discussion of the nature of Greek "piety," and a new chapter on Greek Religion and Greek Culture
Reviews
Praise for the first edition:
"A brilliant general synthesis covering the Greek world over the period of 'classical' Athens ... [Mikalson's] book is a model of how it should be done." BBC History Magazine
"A first introduction to ancient Greek religion, which encompasses hundreds of deities of several different types, and varied widely over nearly two thousand years and thousands of large and small Greek city-states." Reference and Research Book News
"Clearly written and organised, it will be appreciated by students." Antiquity
"It is well written, very accurate, and communicative." Australian Religion Studies Review
A Choice Outstanding Academic Title of the Year
Features
Accessible introduction to Greek religion, focuses on Athens in the classical period
Includes detailed discussion of Greek gods and heroes, myth and cult, and vivid descriptions of Greek religion as it was practiced
Ancient texts are presented in boxes to promote thought and discussion, and abundant illustrations help readers visualize the rich and varied religious life of ancient Greece
Revised edition includes additional boxed texts and bibliography, an 8-page color plate section, a new discussion of the nature of Greek 'piety', and a new chapter on Greek Religion and Greek Culture