Ancient Greek Religion 2e + Religion in the Roman Empire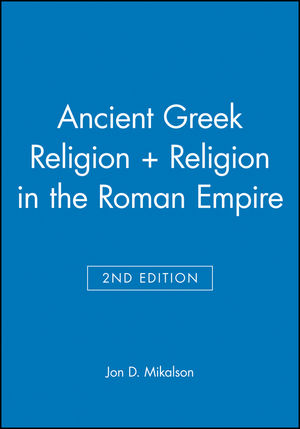 Ancient Greek Religion 2e + Religion in the Roman Empire
ISBN: 978-1-444-31428-1 July 2015 Wiley-Blackwell 520 Pages
Description
A two-book set on religion in ancient Greece and Rome
This book set features two titles: Religion in the Roman Empire and the second edition of Ancient Greek Religion. The book on Greek religion is an introduction to ancient religious practices and beliefs. It describes the ancient religions that pre-date the Bible, which are characterized by ritual. This book by experts is a guide to these beliefs and religious experiences, brought into greater focus through maps, a glossary, illustrations and photos. Religion in the Roman Empire provides an introduction to Graeco-Roman beliefs. It also discusses regional religions, such as those found in Egypt. The features of religion in the Roman world are presented by sharing various materials with the reader, from literature to monuments.
Table of contents
Ancient Greek Religion, 2nd Edition
List of color plates.
List of figures.
List of maps.
Preface.
Abbreviations.
1. An Overview: Greek Sanctuaries and Worship.
2. Greek Gods, Heroes, and Polytheism.
3. Seven Greek Cult Myths.
4. Five Major Greek Cults.
5. Religion in the Greek Family and Village.
6. Religion of the Greek City-State.
7. Greek Religion and the Individual.
8. Greek Religion in the Hellenistic Period.
9. Greek Religion and Greek Culture.
10. Glossary of recurring Greek terms.
Index.
Religion in the Roman Empire
List of Illustrations.
List of Maps.
List of Text Boxes.
Acknowledgments.
Maps.
Introduction.
1. Identifying 'Religion' in the Graeco-Roman Tradition.
2. Regional Religious Traditions of the Empire.
3. The Presence of the Gods.
4. Religion and Community.
5. Religion and Empire.
6. Religious Options.
7. Roman Religious Policy.
Epilogue: Religious Change in the Roman Empire.
Glossary of Major Deities.
Glossary of Authors and Texts.
References.
Index.