Ancient Rome and Modern America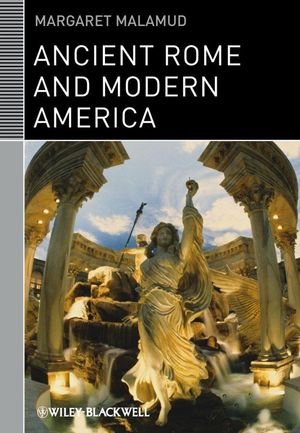 Ancient Rome and Modern America
ISBN: 978-1-405-13933-5 November 2008 Wiley-Blackwell 312 Pages
Description
Ancient Rome and Modern America
explores the vital role the narratives and images of Rome have played in America's understanding of itself and its history.
Places America's response to Rome in a historical context, from the Revolutionary era to the present
Looks at portrayals of Rome in different media: writing, architecture, theatre, painting, World's Fairs and Expositions, and film
Beautifully illustrated with over 40 high quality photographs and figures
Table of contents
List of Illustrations.
Acknowledgments.
Introduction.
1. Exemplary Romans in the Early Republic.
2. Working Men's Heroes.
3. Rome and the Politics of Slavery.
4. Corporate Caesars and Radical Reformers.
5. Manifest Virtue.
6. The Pleasures of Empire.
7. Screening Rome During the Great Depression.
8. Cold War Romans.
9. Imperial Consumption.
Epilogue.
Bibliography.
Filmography.
Index
Reviews
"[Malamud] has done us a noble service as a social historian." (
Times Higher Education Supplement
, February 2009)
"Malamud's analysis provides a key to understanding why the US party system aligns itself with certain issues. To be read by all Americans, as history or a warning. [It is] not just another United States as New Rome, but [has] clear, meaningful comparisons. [It] clarifies our current political trajectory." (About.com (Ancient History Guide), November 2008)
Features


Explores how images and narratives of Rome have been appropriated across American culture - from the commanding politicians of the Roman Republic to its monumental, classical architecture

Places America's response to Rome in a historical context, from the Revolutionary era to the present

Looks at portrayals of Rome in different media: writing, architecture, theatre, painting, World's Fairs and Expositions, and film

Beautifully illustrated with over 40 high quality photographs and figures