Anesthesia for Cardiac Surgery, 3rd Edition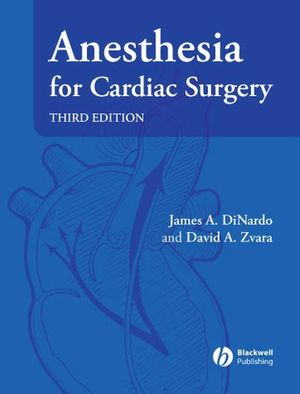 Anesthesia for Cardiac Surgery, 3rd Edition
ISBN: 978-0-470-69228-8 April 2008 Wiley-Blackwell 472 Pages
Description
This comprehensive, state of the art overview of pediatric and adult cardiac anesthesia brings together all the latest developments in this rapidly developing field. This text is intended both as a reference and for daily use by practicing and prospective anesthesiologists.

Thoroughly updated for its third edition, Anesthesia for Cardiac Surgery fills the gap between encyclopaedic references and brief outlines, presenting just the right amount of information to guide trainees and practitioners who care for cardiac surgical patients.

This edition features:
The introduction of Dr Zvara as co-editor
A new chapter on Special Considerations
Practical clinical information coupled with comprehensive descriptions of physiology
Key facts and tables summarized for convenient access
This essential resource will prove invaluable for residents, fellows, and practicing anesthesiologists.
Preface.
1 Introduction.
2 Myocardial Physiology and the Interpretation of.
Cardiac Catheterization Data.
3 Monitoring.
4 Anesthesia for Myocardial Revascularization.
5 Anesthesia for Valvular Heart Disease.
6 Congenital Heart Disease.
7 Anesthesia for Heart, Heart-Lung, and Lung Transplantation.
8 Pericardial Disease.
9 Anesthesia for Surgery of the Thoracic Aorta.
10 Management of Cardiopulmonary Bypass.
11 Mechanical Circulatory Support.
12 Myocardial Preservation during Cardiopulmonary Bypass.
13 Special Considerations during Cardiac Surgery.
Index
"Easy to read.... A useful complementary text which will improve understanding and clinical practice for training registrars and practising anaesthetists." (
Anaesthesia and Intensive Care
, November 2009)
"It is compact straightforward and easy to read and offers valuable information.... It is obvious that the editors are seasoned educators because the text reflects information that satisfies the natural inquisitive nature of new trainees. This textbook is a practical straightforward guide for residents training in cardiothoracic anesthesia. The stated objectives of the authors have been met by offering a text that distills the essential knowledge ... into a succinct and well written text. I highly recommend this textbook as an educational tool for the core curriculum in training programs." (Journal of the American Medical Association, December 2008)
"...this book is a prime example that a nearly 'one-man show' can result in a fine textbook...focused, comprehensive prose and excellent illustrations...I would recommend this text as a comprehensive review..." (Anesthesiology)
● Comprehensive, state of the art overview of the current practice of pediatric and adult cardiac anesthesia
● New co-editor, Dr Zvara, joins the editorial team
● Features extensively updated content in every chapter
● Comprehensive descriptions and practical practice advice supported by currently available literature
● Offers practical, clinical information in a quick guide to daily practice
● Presents useable reference material such as key facts and tables
● Previously published by Appleton and Lange