Angiogenesis Assays: A Critical Appraisal of Current Techniques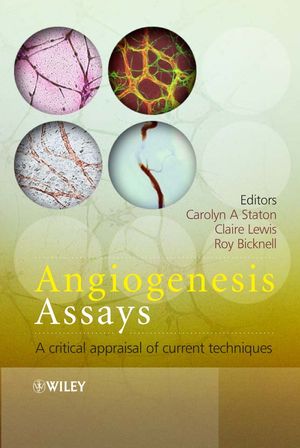 Angiogenesis Assays: A Critical Appraisal of Current Techniques
ISBN: 978-0-470-02934-3 January 2007 410 Pages
Download Product Flyer
Download Product Flyer
Download Product Flyer is to download PDF in new tab. This is a dummy description. Download Product Flyer is to download PDF in new tab. This is a dummy description. Download Product Flyer is to download PDF in new tab. This is a dummy description. Download Product Flyer is to download PDF in new tab. This is a dummy description.
Description
Angiogenesis, the development of new blood vessels from the existing vasculature, is essential for physiological growth and over 18,000 research articles have been published describing the role of angiogenesis in over 70 different diseases, including cancer, diabetic retinopathy, rheumatoid arthritis and psoriasis. One of the most important technical challenges in such studies has been finding suitable methods for assessing the effects of regulators of eh angiogenic response. While increasing numbers of angiogenesis assays are being described both in vitro and in vivo, it is often still necessary to use a combination of assays to identify the cellular and molecular events in angiogenesis and the full range of effects of a given test protein. Although the endothelial cell - its migration, proliferation, differentiation and structural rearrangement - is central to the angiogenic process, it is not the only cell type involved. the supporting cells, the extracellular matrix and the circulating blood with its cellular and humoral components also contribute.
In this book, experts in the use of a diverse range of assays outline key components of these and give a critical appraisal of their strengths and weaknesses. Examples include assays for the proliferation, migration and differentiation of endothelial cells in vitro, vessel outgrowth from organ cultures, assessment of endothelial and mural cell interactions, and such in vivo assays as the chick chorioallantoic membrane, zebrafish, corneal, chamber and tumour angiogenesis models. These are followed by a critical analysis of the biological end-points currently being used in clinical trials to assess the clinical efficacy of anti-angiogenic drugs, which leads into a discussion of the direction future studies should take.
This valuable book is of interest to research scientists currently working on angiogenesis in both the academic community and in the biotechnology and pharmaceutical industries. Relevant disciplines include cell and molecular biology, oncology, cardiovascular research, biotechnology, pharmacology, pathology and physiology. 
Table of contents
Preface.
List of Contributors.
1 Endothelial cell biology(Femke Hillen, Veerle Melotte, Judy R. van Beijnum and Arjan W. Griffioen).
2 Endothelial cell proliferation assays (Wen-Sen Lee).
3 Endothelial cell migration assays (Christos Polytarchou, Maria Hatziapostolou and Evangelia Papadimitriou).
4 Tubule formation assays (Ewen J. Smith and Carolyn A. Staton).
5 Modelling the effects of the haemodynamic environment on endothelial cell responses relevant to angiogenesis (Gerard B. Nash and Stuart Egginton).
6 Whole or partial vessel outgrowth assays (Cindy H. Chau and William D. Figg).
7 Assaying endothelial–mural cell interactions (Melissa K. Nix and Karen K. Hirschi).
8 Assays for membrane and intracellular signalling events (Vittorio Tomasi, Cristiana Griffoni, Spartaco Santi, Patrizia Lenaz, Rosa Anna Iorio, Antonio Strillaci and Enzo Spisni).
9 Implantation of sponges and polymers (Silvia P. Andrade, Monica A. N. D. Ferreira and Tai-Ping Fan).
10 Angiogenesis assays in the chick (Andries Zijlstra, David Mikolon and Dwayne G. Stupack).
11 Corneal angiogenesis assay (Siqing Shan and Mark W. Dewhirst).
12 Dorsal air sac model (Sei Yonezawa, Tomohiro Asai and Naoto Oku).
13 Chamber assays (Michael D. Menger, Matthias W. Laschke and Brigitte Vollmar).
14 Tumour models: analysis of angiogenesis in vivo (Sven A. Lang, M.D. and Oliver Stoeltzing, M.D).
15 Angiomouse: imageable models of angiogenesis (Robert M. Hoffman).
16 Techniques and advances in vascular imaging in Danio rerio (Kenna R. Mills Shaw and Brant. M. Weinstein).
17 Biological and clinical implications of recruitment of stem cells into angiogenesis (Gianluigi Castoldi, Antonio Cuneo and Gian Matteo Rigolin).
18 Methods for monitoring of the anti-angiogenic activity of agents in patients: novel trial design (Shannon Smiley, Michael K. K. Wong and Shaker A. Mousa).
19 An overview of current angiogenesis assays: Choice of assay, precautions in interpretation, future requirements and directions (Robert Auerbach).
Index.