Anglo-Norman England 1066 - 1166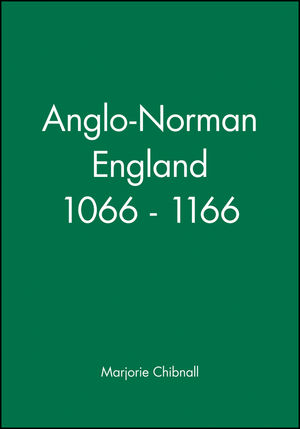 Anglo-Norman England 1066 - 1166
ISBN: 978-0-631-15439-6 January 1991 Wiley-Blackwell 260 Pages
Description
Historians have long debated the significance of the Norman Conquest. Did it mark the imposition of an alien and repressive regime on "free Englishmen"? Or did England benefit from the uniting of two separate and disparate cultures and civilizations? Marjorie Chibnall, one of the leading historians of the period, here addresses these issues.
Table of contents
List of Maps.
Preface.
Introduction.
Part I: Conquest and Settlement:.
1. The First Phases of Conquest.
2. The Moving Frontiers.
3. Settlement and Succession..
Part II: Wealth and Government:.
4. From Doomsday Book to the Pipe Rolls.
5. The Wealth of England.
Part III: Law and Society:.
6. Towards a Common Law.
7. Serfdom and Villeinage: the Manorial Courts.
8. Canon Law and the Church Courts.
9. Normans and English.
Epilogue.
Appendix 1: Claimants to the English Throne 1066-1100.
Appendix 2: The Ancestors of Henry II.
Further Reading.
Bibliography of Abbreviated Titles.
Index.
Reviews
"Marjorie Chibnall has produced a concise conspectus which makes twenty years of historical research both accessible and intelligible to the general reader."
Times Literary Supplement
"Essential reading for anyone studying the period ... throughout its length the book beams powerful shafts of light on many aspects of Anglo-Norman England." History
"This volume will be an ideal introduction for students; its examples will refresh many a jaded lecture course; and for specialists it will be a continuing point of reference." History and Archaeology
"This outstanding work is now reissued in the full-colour livery of the Blackwell series." A History of Medieval Britain