Anion Coordination Chemistry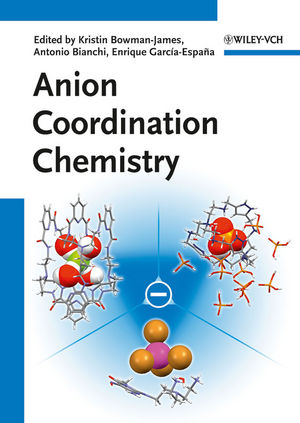 Anion Coordination Chemistry
ISBN: 978-3-527-63951-9
Mar 2012
574 pages
Description
Building on the pioneering work in supramolecular chemistry from the last 20 years or so, this monograph addresses new and recent
approaches to anion coordination chemistry. Synthesis of receptors, biological receptors and metallareceptors, the energetics of anion binding, molecular structures of anion complexes, sensing devices are presented and computational studies addressed to aid with the understanding of the different driving forces responsible for anion complexation. The reader is promised an actual picture of the state of the art for this exciting and constantly evolving field of supramolecular anion coordination chemistry. The topics range from ion channels to selective
sensors, making it attractive to all researchers and PhD students with an interest in supramolecular chemistry.
Preface

ASPECTS OF ANION COORDINATION FROM HISTORICAL PERSPECTIVES
Introduction
Halide and Pseudohalide Anions
Oxoanions
Phosphate and Polyphosphate Anions
Carboxylate Anions and Amino Acids
Anionic Complexes: Supercomplex Formation
Nucleotides
Final Notes

THERMODYNAMIC ASPECTS OF ANION COORDINATION
Introduction
Parameters Determining the Stability of Anion Complexes
Molecular Recognition and Selectivity
Enthalpic and Entropic Contributions in Anion Coordination

STRUCTURAL ASPECTS OF ANION COORDINATION CHEMISTRY
Introduction
Basic Concepts of Anion Coordination Chemistry
Classes of Anion Hosts
Acycles
Monocycles
Cryptands
Transition-Metal-Assisted Ligands
Lewis Acid Ligands
Conclusion

SYNTHETIC STRATEGIES
Introduction
Design and Synthesis of Polyamine-Based Receptors for Anions
Design and Synthesis of Amide Receptors

TEMPLATE SYNTHESIS
Introductory Remarks
Macrocyclic Systems
Bowl-Shaped Systems
Capsule, Cage, and Tube-Shaped Systems
Circular Helicates and meso-Helicates
Mechanically Linked Systems
Concluding Remarks

ANION-PI INTERACTIONS IN MOLECULAR RECOGNITION
Introduction
Physical Nature of the Interaction
Energetic and Geometric Features of the Interaction Depending on the Host (Aromatic Moieties) and the Guest (Anions)
Influence of Other Noncovalent Interactions on the Anion-Pi Interaction
Experimental Examples of Anion-Pi Interactions in the Solid State and in Solution
Concluding Remarks

RECEPTORS FOR BIOLOGICALLY RELEVANT ANIONS
Introduction
Phosphate Receptors
Carboxylate Receptors
Conclusion

SYNTHETIC AMPHIPHILIC PEPTIDES THAT SELF-ASSEMBLE TO MEMBRANE-ACTIVE ANION TRANSPORTS
Introduction and Background
Biomedical Importance of Chloride Channels
The Development of Synthetic Chloride Channels
Approaches to Synthetic Chloride Channels
The Development of Amphiphilic Peptides as Anion Channels
Structural Variations in the SAT Modular Elements
Conclusions

ANION SENSING BY FLUORESCENCE QUENCHING OR REVIVAL
Introduction
Anion Recognition by Dynamic and Static Quenching of Fluorescence
Fluorescent Sensors Based on Anthracene and on a Polyamine Framework
Turning on Fluorescence with the Indicator Displacement Approach