Annals Meeting Reports - Omics Platforms, Prioritizing Health Disparities in Medical Education, Paradox of Overnutrition, and Vitamin D BB, Volume 1287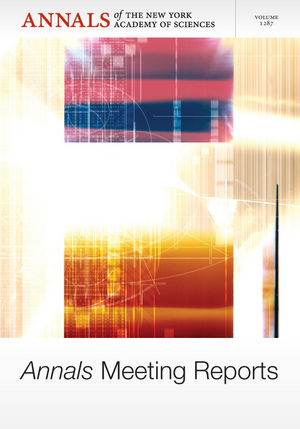 Annals Meeting Reports - Omics Platforms, Prioritizing Health Disparities in Medical Education, Paradox of Overnutrition, and Vitamin D BB, Volume 1287
ISBN: 978-1-573-31930-0 July 2013 Wiley-Blackwell 252 Pages
Download Product Flyer
Download Product Flyer
Download Product Flyer is to download PDF in new tab. This is a dummy description. Download Product Flyer is to download PDF in new tab. This is a dummy description. Download Product Flyer is to download PDF in new tab. This is a dummy description. Download Product Flyer is to download PDF in new tab. This is a dummy description.
Description
This
Annals
volume presents four scholarly meeting reports: (1) Application of combined omics platforms to accelerate biomedical discovery in diabesity; (2) Prioritizing health disparities in medical education to improve care; (3) The paradox of overnutrition in aging and cognition; and vitamin D: beyond bone.
Diabesity has become a popular term to describe the specific form of diabetes that develops late in life and is associated with obesity. While there is a correlation between diabetes and obesity, the association is not universally predictive. Defining the metabolic characteristics of obesity that lead to diabetes, and how obese individuals who develop diabetes different from those who do not, are important goals. The use of large-scale omics analyses (e.g., metabolomic, proteomic, transcriptomic, and lipidomic) of diabetes and obesity may help to identify new targets to treat these conditions. This report discusses how various types of omics data can be integrated to shed light on the changes in metabolism that occur in obesity and diabetes.
Despite yearly advances in life-saving and preventive medicine, as well as strategic approaches by governmental and social agencies and groups, significant disparities remain in health, health quality, and access to health care within the United States. The determinants of these disparities include baseline health status, race and ethnicity, culture, gender identity and expression, socioeconomic status, region or geography, sexual orientation, and age. In order to renew the commitment of the medical community to address health disparities, particularly at the medical school level, we must remind ourselves of the roles of doctors and medical schools as the gatekeepers and the value setters for medicine. Within those roles are responsibilities toward the social mission of working to eliminate health disparities. This effort will require partnerships with communities as well as with academic centers to actively develop and to implement diversity and inclusion strategies. Besides improving the diversity of trainees in the pipeline, access to health care can be improved, and awareness can be raised regarding population-based health inequalities.
Populations of many countries are becoming increasingly overweight and obese, driven largely by excessive calorie intake and reduced physical activity; greater body mass is accompanied by epidemic levels of comorbid metabolic diseases. At the same time, individuals are living longer. The combination of aging and the increased prevalence of metabolic disease is associated with increases in aging-related comorbid diseases such as Alzheimer's disease, cerebrovascular dementia, and sarcopenia. Here, correlative and causal links between diseases of overnutrition and diseases of aging and cognition are explored.
In recent years, vitamin D has been received increased attention due to the resurgence of vitamin D deficiency and rickets in developed countries and the identification of extraskeletal effects of vitamin D, suggesting unexpected benefits of vitamin D in health and disease, beyond bone health. The possibility of extraskeletal effects of vitamin D was first noted with the discovery of the vitamin D receptor (VDR) in tissues and cells that are not involved in maintaining mineral homeostasis and bone health, including skin, placenta, pancreas, breast, prostate and colon cancer cells, and activated T cells. However, the biological significance of the expression of the VDR in different tissues is not fully understood, and the role of vitamin D in extraskeletal health has been a matter of debate. This report summarizes recent research on the roles for vitamin D in cancer, immunity and autoimmune diseases, cardiovascular and respiratory health, pregnancy, obesity, erythropoiesis, diabetes, muscle function, and aging.
NOTE: Annals volumes are available for sale as individual books or as a journal. For information on institutional journal subscriptions, please visit http://ordering.onlinelibrary.wiley.com/subs.asp?ref=1749-6632&doi=10.1111/(ISSN)1749-6632.
ACADEMY MEMBERS: Please contact the New York Academy of Sciences directly to place your order (www.nyas.org). Members of the New York Academy of Science receive full-text access to Annals online and discounts on print volumes. Please visit http://www.nyas.org/MemberCenter/Join.aspx for more information about becoming a member.
Table of contents
1 Application of combined omics platforms to accelerate biomedical discovery in diabesity
Irwin J. Kurland, Domenico Accili, Charles Burant, Steven M. Fischer, Barbara B. Kahn, Christopher B. Newgard, Suma Ramagiri, Gabriele V. Ronnett, john A. Ryals, Mark Sanders, Joe Shambaugh, John Shockcor, and Steven S. Gross
17 Prioritizing health disparities in medical education to improve care
Temitope Awosogba, Joseph R. Betancourt, F. Garrett Conyers, Estela S. Estape, Fritz Francois, Sabrina J. Gard, Arthur Kaufman, Mitchell R. Lunn, Marc A. Nivet, Joel D. Oppenheim, Claire Pomeroy, and Howa Yeung
31 The paradox of overnutrition in aging and cognition
Roger A. Fielding, John Gunstad, Deborah R. Gustafson, Steven B. Heymsfield, John G. Kral, Lenore J. Launer, Josef Penninger, David I. W. Philips, and Nikolaos Scarmeas
45 Vitamin D: beyond bone
Sylvia Christakos, Martin Hewison, David G. Gardner, Carol L. Wagner, Igor N. Sergeev, Erica Rutten, Anastassios G. Pittas, Ricardo Boland, Luigi Ferrucci, and Daniel D. Bikle