Annual Plant Reviews, Volume 18, Plasmodesmata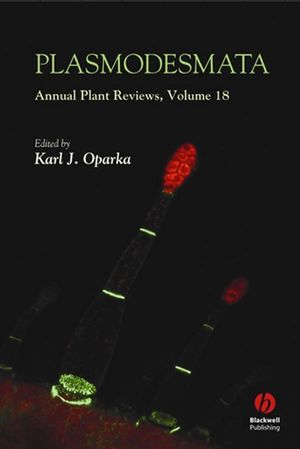 Annual Plant Reviews, Volume 18, Plasmodesmata
ISBN: 978-0-470-98857-2 November 2007 Wiley-Blackwell 328 Pages
Description
Since their discovery over 100 years ago, plasmodesmata have been the focus of intense investigation. Plasmodesmata are unique to plants and form an intercellular continuum for the transport of solutes, signals and ribonucleoprotein complexes. It is now clear that plasmodesmata formation and regulation are central to a diverse range of plant functions that include developmental programming, host-pathogen interactions and systemic RNA signaling.





This book provides a state-of-the-art overview of the diverse forms and functions of plasmodesmata. It covers the structure and evolution of plasmodesmata, their role in plant development and solute transport, and their central function in systemic signaling via the phloem. It includes critical evaluations of current methods used to study intercellular transport via plasmodesmata.





The volume is directed at researchers and professionals in plant cell biology, plant molecular biology, plant physiology and plant pathology.
Contributors.
Preface.
1. Plasmodesmal structure and development.
Alison G. Roberts, Scottish Crop Research Institute, Dundee, UK.
2. Evolution of plasmodesmata.
John A. Raven, Division of Environmental and Applied Biology, University of Dundee, UK.
3. Plasmodesmata: protein transport signals and receptors.
Friedrich Kragler, Vienna Biocenter, Austria.
4. Comparative structures of specialised monocotyledonous leaf blade plasmodesmata.
C. E. J. Botha, Botany Department, Rhodes University, Grahamstown, South Africa, R. H. M. Cross, Electron Microscopy Unit, Rhodes University, Grahamstown, South Africa and L. Liu, Linyi University, Linyi, China.
5. Plasmodesmata and plant morphogenesis.
Ken Kobayashi, Insoon Kim, Euna Cho and Patricia Zambryski, Department of Plant and Microbial Biology, University of California, Berkeley, USA.
6. Transcription factor movement through plasmodesmata.
David Jackson, Cold Spring Harbor Laboratory, New York, USA.
7. Role of plasmodesmata in solute loading and unloading.
Alexander Schulz, Department of Plant Biology, The Royal Veterinary and Agricultural University, Copenhagen, Denmark.
8. Plasmodesmata and the phloem: conduits for local and long-distance signaling.
Robert L. Gilbertson, Maria R. Rojas, and William J. Lucas, Department of Plant Pathology, University of California, Davis, USA.
9. Movement of viruses to and through plasmodesmata.
Richard S. Nelson, Samuel Roberts Noble Foundation, Ardmore, Oklahoma, USA.
10. Systemic RNA silencing.
Manfred Heinlein, Institute of Botany, University of Basel, Switzerland.
11. Techniques for imaging intercellular transport.
Karl Oparka and Petra Boevink, Unit of Cell Biology, Scottish Crop Research Institute, Dundee, UK.
12. Electrical signalling via plasmodesmata.
Aart J. E. van Bel and Katrina Ehlers, Institute of General Botany, Justus-Liebig University, Giessen, Germany.
13. Regulation of plasmodesmal conductance.
Terena L. Holdaway-Clarke, School of Biological Sciences, University of Sydney, New South Wales, Australia.
Index
· A state-of-the-art review of a highly topical area of plant cell biology
· The chapter authors are recognised as major players in the field and are drawn from respected international laboratories

· The book provides a way into the more detailed literature