Annual Plant Reviews, Volume 19, Plant Epigenetics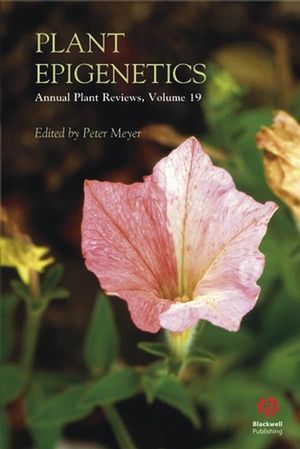 Annual Plant Reviews, Volume 19, Plant Epigenetics
ISBN: 978-1-405-17305-6 April 2008 Wiley-Blackwell 304 Pages
Download Product Flyer
Download Product Flyer
Download Product Flyer is to download PDF in new tab. This is a dummy description. Download Product Flyer is to download PDF in new tab. This is a dummy description. Download Product Flyer is to download PDF in new tab. This is a dummy description. Download Product Flyer is to download PDF in new tab. This is a dummy description.
Description
With the discovery of RNAi pathways and the histone code, epigenetics has become a popular and fast evolving research topic. Plant science has made a number of elementary contributions to this field, and the common elements of epigenetic systems have linked research groups interested in plant, fungal and animal systems.
This volume provides a comprehensive overview epigenetic mechanisms and biological processes in plants, illustrating the wider relevance of this research to work in other plant science areas and on non-plant systems. It discusses recent advances in our knowledge of basic mechanisms and molecular components that control transcriptional and post-transcriptional silencing, an understanding of which is essential for plant researchers who use transgenic lines for stable expression of a recombinant construct or for targeted inactivation of an endogenous gene. These aspects should be of special interest to the agricultural industry.

The volume illustrates the relevance of epigenetic control systems to gene regulation and plant development, examining paramutation, genomic imprinting and microRNA-based gene regulation mechanisms. Finally, it demonstrates the significance of epigenetic systems to viral defence and genome organisation.

The volume is directed at researchers and professionals in plant molecular genetics, plant biochemistry and plant developmental biology.
Table of contents
1. Transgene silencing.
Ann Depicker and Matthew Sanders, University of Gent, Belgium and Peter Meyer, Centre for Plant Sciences, University of Leeds, UK.
2. RNA interference: double-stranded RNAs and the processing machinery.
Jan Kooter, Department of Genetics, Vrije University Amsterdam, The Netherlands.
3. RNA-mediated DNA methylation.
Marjori Matzke, Tatsuo Kanno, Bruno Huettel and Estelle Jaligot, Gregor Mendel-Institut, Vienna, Austria; M. Florian Mette, IPK Gatersleben, Germany; David Kreil, Department of Genetics/Inference Group, University of Cambridge, UK; Lucia Daxinger, Philipp Rovina, Werner Aufsatz and Antonius Matzke, Gregor Mendel-Institut, Vienna, Austria.
4. Heterochromatin and the control of gene silencing in plants.
Gunter Reuter, A Fischer and I Hofmann, Martin Luther University, Institute for Genetics, Halle, Germany.
5. When alleles meet: paramutation.
Marieke Louwers, Max Haring and Maike Stam, Swammerdam Institute for Life Sciences, University of Amsterdam, Amsterdam, The Netherlands.
6. Genomic imprinting in plants: a predominantly maternal affair.
Ueli Grossniklaus, Institute of Plant Biology, University of Zürich, Switzerland.
7. Nucleolar dominance and rRNA gene dosage control: a paradigm for transcriptional regulation via an epigenetic on/off switch.
Nuno Neves and Wanda Viegas, Faculty of Science and Technology, Universidade Nova de Lisboa, Monte da Caparica, Portugal and Craig Pikaard, Biology Department, Washington University, Missouri, USA.
8. Virus induced gene silencing.
Tamas Dalmay, School of Biological Sciences, University of East Anglia, UK.
9. MicroRNAs: micro-managing the plant genome.
Sandra Floyd and John Bowman, Section of Plant Biology, University of California at Davis.
Reviews
"Given the rapid increase in publication of scientific papers involved in plant epigenetics, a book that provides comprehensive coverage of recent knowledge is earnestly desired by Plant Scientists. Plant Epigenetics edited by Peter Meyer is published just at the right moment. Plant Epigenetics thoroughly covers this rapidly developing and expanding field in plant science. The chapters are well written and provide clear, concise and informative views on the individual fields in plant epigenetics. Both researchers and students will find this book a valuable source of state-of-the-art information on plant epigenetics"
Annalls of Botany, 1-1, 2007
Features
The first volume to provide an overview of plant epigenetics, which is experiencing intense research activity in view of its relevance to biology in general.
Offers a first point of reference for researchers in plant science who have been attracted to this research area.

Chapter authors are drawn from major international laboratories