Annual Plant Reviews, Volume 34, Molecular Aspects of Plant Disease Resistance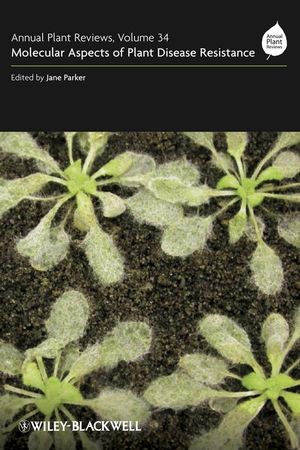 Annual Plant Reviews, Volume 34, Molecular Aspects of Plant Disease Resistance
ISBN: 978-1-405-17532-6
Nov 2008, Wiley-Blackwell
400 pages
Description
Annual Plant Reviews, Volume 34
Molecular Aspects of Plant Disease Resistance
Edited by Jane Parker


In recent years, our understanding of the mechanisms involved in plant resistance to disease has seen major advances. This important new volume in Wiley-Blackwell's Annual Plant Reviews provides cutting edge reviews on major aspects of plant immunity from many of the world's leading researchers in the area. Coverage includes:


• Establishment of disease by microbial pathogens
• Genomic approaches to understanding host-pathogen interactions
• Local and systemic resistance signalling
• Activities of small bioactive molecules
• Plant-insect ecology


This exciting volume is essential reading for all those studying plant-pathogen interactions including plant and agricultural scientists, molecular biologists, geneticists and microbiologists. Libraries in all universities and research establishments where biological and agricultural sciences are studied and taught should have copies of this important volume on their shelves.


About the Editor
Dr Jane Parker is a Group Leader in the Department of Plant-Microbe Interactions at The Max-Planck Institute of Plant Breeding Research, Cologne and Associate Professor at The Institute of Genetics, University of Cologne, Germany.


Also Available


Annual Plant Reviews, Volume 33
Intracellular Signaling in Plants
Edited by Zhenbiao Yang
Print: 9781405160025


Annual Plant Reviews, Volume 32
Cell Cycle Control and Plant Development
Edited by Dirk Inzé
Print: 9781405150439
Online: 9780470988923


Annual Plant Reviews, Volume 31
Plant Mitochondria
Edited by David Logan
Print: 9781405149396
Online: 9780470986592


Annual Plant Reviews, Volume 30
Light and Plant Development
Edited by Garry C. Whitelam and Karen J. Halliday
Print: 9781405145381
Online: 9780470988893
1. A personal perspective of the last 40 years of Plant Pathology: emerging themes, paradigm shifts and future promise.
Michele C. Heath.
2. Pathogen-associated molecular patterns (PAMP) and PAMP-triggered immunity.
Thorsten Nürnberger and Birgit Kemmerling.
3. Pseudomonas syringae type III-secreted proteins and their activities and effects on plant innate immunity.
Byeong-ryool Jeong, Karin van Dijk and James R. Alfano,.
4. Establishment of fungal and oomycete biotrophy.
Mark de Jong and Guido van den Ackerveken.
5. Genome biology cracks enigmas of oomycete plant pathogens.
Klaas Bouwmeester, Pieter M.J.A. van Poppel and Francine Govers.
6. Plant-virus interactions: Defence and counter-defence.
Matthew Lewsey, Peter Palukaitis and John Carr.
7. Marshalling the troops: Intracellular dynamics in plant-pathogen defence.
Kristoffer Palma, Marcel Wiermer and Xin Li.
8. Role of plant secondary metabolites at the host-pathogen interface.
Pawel Bednarek & Paul Schulze-Lefert.
9. Chemical ecology of plant-insect interactions.
Axel Mithöfer , Wilhelm Boland and Massimo E. Maffei.
10. Lipid signals in plant- pathogen interactions.
Jyoti Shah and Ratnesh Chaturvedi.
11. Induced resistance – orchestrating defence machanisms through cross-talk and priming.
Sjoerd van der Ent, Juriaan Ton, Annemart Koorneef and Corné M.J. Pieterse
"This is a well-written and presented book on an exciting and important topic that provides a wealth of up-to-date information suitable for final-year undergraduates, postgraduates and professional researchers." (Annals of Botany, August 2009)


Comprehensive coverage of major molecular aspects of the subject

Core information for the crop protection industry

Editor and Contributors are well known internationally for work in this area

Part of Blackwell's Annual Plant Reviews series