Annual Plant Reviews, Volume 8, The Plant Cell Wall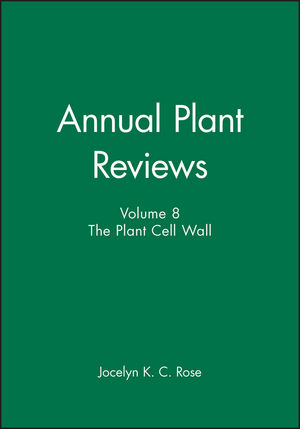 Annual Plant Reviews, Volume 8, The Plant Cell Wall
ISBN: 978-1-405-14773-6
Feb 2009, Wiley-Blackwell
400 pages
Description
Annual Plant Reviews, Volume 8


In the last few years, the new analytical tools associated with molecular biology, biochemistry, spectroscopy, microscopy, immunology, genomics and proteomics have been employed to investigate plant cell wall structure and function, providing a degree of resolution that was, until recently, unattainable. This has resulted in a growing awareness of the critical role of plant cell walls in a broad range of developmental events, adding strength and diversity to cell wall-related scientific research.


This volume provides an overview of our current understanding of plant cell walls, drawing on the recent advances of plant molecular biology. It incorporates the identification of a rapidly growing number of genes and the proteins responsible for plant wall synthesis, restructuring, degradation and wall-associated signal transduction. The book bridges the biochemistry-oriented cell wall literature and the new technology-driven approaches.


This is a book for academic and industrial researchers in plant cell biology, biochemistry, developmental biology, genetics and molecular biology.
The composition and structure of plant primary cell walls
– M. A. O'Neill and W.S. York, Complex Carbohydrates Research Center, Athens, Georgia, USA..
Biophysical characterisation of plant cell walls – V.J. Morris, S. G. Ring, A.J. McDougall and R. Wilson, Institute of Food Research, Norwich, UK..
Molecules in context: probes for cell wall analysis – W.G.T. Willats, School of Biology, University of Leeds, UK and J.P. Knox, Centre for Plant Sciences, University of Leeds, UK..
Non-enzymic cell wall (glyco)proteins – K.L. Johnson, A. Bacic and B.J. Jones, School of Botany, University of Melbourne, Australia and C.J. Schultz, Department of Plant Science, University of Adelaide, Australia..
Towards an understanding of the supramolecular organization of the lignified wall – A. Boudet, Université Paul Sabatier, Toulouse, France..
Plant cell wall biosynthesis: making the bricks – M.S. Doblin, C.E. Vergara, S. Read, E. Newbigin and A. Bacic, School of Botany, University of Melbourne, Australia..
WAKs: cell wall associated kinases – J. Riese, J. Ney and B.D. Kohorn, Department of Biology, Bowdoin College, Brunswick, Maine, USA..
Expansion of the plant cell wall – D.J. Cosgrove, Pennsylvania State University, USA..
Cell wall disassembly – J. Rose and C. Catala, Department of Plant Biology, Cornell University, Ithaca, New York, USA and Z.H. Gonzalez-Carranza and J.A. Roberts, School of Biosciences, University of Nottingham, Loughborough, UK..
Plant cell walls in the post-genomic era – W-R. Scheible, Max-Planck Institute für Molekulare Pflanzenphysiologie, Golm, Germany, S. Bashir and J. Rose, Department of Plant Biology, Cornell University, Ithaca, New York, USA..
References.
Index