Annuities For Dummies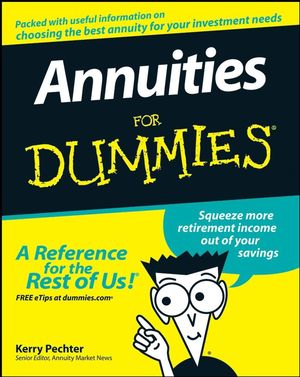 Annuities For Dummies
ISBN: 978-1-118-05193-1 February 2011 360 Pages
Description
Why look into annuities? If you're a Baby Boomer with little or no pension and most of your money in low-interest savings accounts, an annuity may be the key to a secure and comfortable retirement. How can you find out whether an annuity is right for you? Read Annuities For Dummies, 3rd Edition.

This completely revised and updated, plain-English guide is packed with the latest information on choosing the best annuity for your retirement needs. You'll find out exactly what annuities are, whether they're the right financial vehicle for you, and which of the many annuity options might have your name on it. You'll learn the ins and outs of using annuities to fund your retirement years, figure out whether to stress investments with insurance or insurance with investments, and find out how the right combination of annuities can help you squeeze more income out of your savings that any other financial tool. Discover how to:
Identify the main types of annuities
Weigh the pros and cons of annuities for yourself
Minimize the complexity and cost of your annuity investment
Figure out how much money to commit
Avoid common annuity pitfalls
Create an income you can't outlive
The time to start securing your financial future is now. Annuities For Dummies, 3rd Edition, gives you knowledge, insider tips, and expert advice you need to make your money do its best for you.
Introduction.
Part I: Annuities: A Blend of Insurance and Investment.
Chapter 1: Making Sense of Annuities.
Chapter 2: Using Annuities to Meet Retirement Challenges.
Chapter 3: Dissecting an Annuity.
Chapter 4: Weighing the Pros and Cons of Annuities.
Chapter 5: Deciding Whether an Annuity Is Right for You.
Part II: Identifying the Main Types of Annuities.
Chapter 6: Saving with Fixed Annuities.
Chapter 7: Experimenting with Index Annuities.
Chapter 8: Meeting the New Generationof Variable Annuities (VAs).
Chapter 9: Financing Your Retirement with an Income Annuity.
Chapter 10: Aging Gracefully with an ALDA.
Part III: Making the Most of Your Annuity.
Chapter 11: Structuring Your Annuity Correctly.
Chapter 12: Optimizing Your Variable Annuity (VA) Investments.
Chapter 13: Accessing, Escaping from, or Converting Your Annuity.
Chapter 14: The Taxing Side of Annuities.
Part IV: Navigating the Annuity Superstore.
Chapter 15: Getting Creative with Annuities.
Chapter 16: Going to Meet the (Sales) Representative.
Chapter 17: Avoiding Annuity Pitfalls.
Part V: The Part of Tens.
Chapter 18: Ten Essential Annuity Expressions.
Chapter 19: Ten Questions to Ask Before You Sign a Contract.
Chapter 20: Ten Factors that Determine Longevity.
Chapter 21: Ten Web Sources for More Annuity Information.
Appendix A: Key Research Sources.
Appendix B: Protection from Insurer Default.
Appendix C: General Rule for Pensions and Annuities.
Glossary.
Index.