Anorexia and Bulimia in the Family: One Parent's Practical Guide to Recovery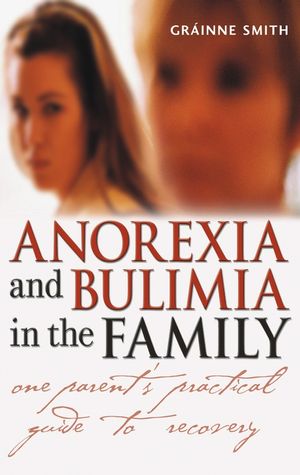 Anorexia and Bulimia in the Family: One Parent's Practical Guide to Recovery
ISBN: 978-0-470-86161-5
Feb 2004
240 pages
Description
Written by a mother whose daughter suffers from an eating disorder, Anorexia and Bulimia Nervosa is a supportive, helpful guide for families of those with eating disorders. Framed by the personal story of Gráinne Smith and her daughter, the book describes the onset and symptoms of the two disorders, as well as the typical situations family and caregivers can expect on the long road to helping the sufferer to recover. Readers will learn about the effects on family life, in particular the common feelings of isolation and helplessness, and get strategies for coping and finding more information and assistance.
About the author.
Foreword by Professor Janet Treasure.
Preface.
Acknowledgements.
Part I.
1. Introductions.
2. Arrivals.
3. Prepare for a long road.
4. Living with the volcano.
5. Horrible habits and ghastly games.
6. Family actions and reactions.
7. Control issues.
8. How bad can it get?
9. Can the family survive Anorexia?
10. You are not alone.
11. Read all about it!
12. Research – past and present.
13. Anorexia, Bulimia and self-esteem.
Part II.
14. Anxious Annie, Soft Sue or Hard-hearted Hannah–the parents' dilemma.
15. Tips, techniques and strategies.
16. Coming up for air – stress, distress and survival for carers.
17. Pathways to professionals.
18. End of the story . . . or rather, a new beginning . . . .
Appendices.
Definitions.
Family areas affected by anorexia and bulimia nervosa.
More carers' conversations from the EDA helpline and meetings.
Addiction/compulsive behaviour – going down . . . coming up!
How to be a motivational carer.
Useful addresses, phone numbers and websites.
Recommended reading.
Bibliography.
Index.
"…February also sees the launch of a book of practical advice for parents by Grainne Smith… (Community Practitioner, 1 Jan 04)
"…invaluable reading for any relative trying to support someone suffering from anorexia or bulimia…" (Independent, 19 January 2003)
"…a welcome practical guide for parents…can be warmly recommended…" (Intl Jnl of Adolescent Med & Health, Vol 16(2), 2004
"…offers vital support and advice to a family coping with, or recovering from, eating disorders…" (Here's Health, April 2004)
"… this is a very readable book, with a skilful interweaving of the author's own story and suggestions and advice…" (Eating Disorders Resources, 4 May 2004)
"…practical suggestions and ideas for coping…" (Human Givens Journal, July 04)