Answering the Ultimate Question: How Net Promoter Can Transform Your Business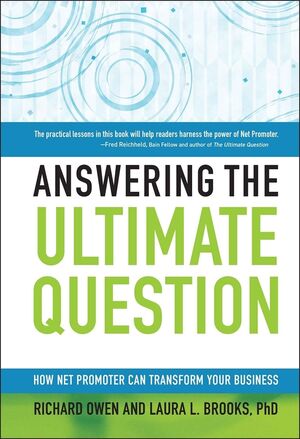 Answering the Ultimate Question: How Net Promoter Can Transform Your Business
ISBN: 978-0-470-26069-2 November 2008 Jossey-Bass 320 Pages
Description
Fred Reichheld's 2006 book The Ultimate Question, that question being, ""How likely is it that you would recommend this company to a friend or colleague?""-challenged the conventional wisdom of customer satisfaction programs. It coined the terms 'bad profits' and 'good profits' and pointed to a faster, much more accurate way of gauging customers' real loyalty to a company, introducing a quantitative measure (the Net Promoter Score) for establishing a baseline and effectively tracking changes going forward. Richard Owen and Laura Brooks are co-developers, along with Reichheld, of the methodology behind answering the question. In this book, Owen and Brooks tell how based on a variety of real case studies' to actually embed Net Promoter discipline in organizations of all types.
Introduction.
1 Net Promoter Fundamentals and Operating Model.
A Net Promoter Primer.
Why Traditional Approaches Fail.
Net Promoter: Key Tenets.
The Net Promoter Operating Model.
Putting It Together: Implementing the Operating Model.
2 Using Customer Economics and Segmentation to Maximize Loyalty.
Quest for Customer Intimacy.
Segmenting for Optimal Results.
Calculating Return on Promoters.
Estimating the Impact of Word of Mouth.
Conclusion.
3 Driving Change: Instill Customer-Centric DNA.
Why Discuss Change Management?
Aligning the Organization.
Getting Senior Leadership Committed.
Getting the Front Line Aligned.
Goal Setting in the Context of Change Management.
Program Governance Model.
Conclusion.
4 Designing an Enterprise Roadmap.
Customer Solutions.
Relationship Versus Transactional Survey Processes.
The Customer Corridor and Its Touch Points.
Employee Solutions.
Phased Versus Big Bang Approach.
Sequencing Your Roadmap.
Conclusion.
5 Building Trustworthy Data.
What Is Trustworthy Data?
Creating the Strategy: Three Key Elements.
The Right Customers: Measuring Who Matters.
The Right Question: Choosing the Right Metric.
The Right Questions: Fitting Survey Strategy to the Business.
Determining the Right Time to Measure.
Other Considerations.
Conclusion.
6 Determining the Root Cause of Promoters and Detractors.
Common Analytical Approaches.
Stated Driver Analysis.
Inferential Driver Analysis.
Comparison of the Tools.
Conclusion.
7 The Closed-Loop Process.
Defi ning Closed-Loop Excellence.
Action at All Levels.
Closing the Loop at the Front Line.
Case Study: BearingPoint Closes the Loop at the Account Level.
Closing the Loop at the Management Level.
Closing the Loop at the Executive Level.
Accountability at All Three Levels.
Conclusion.
8 Setting Realistic Targets and Improvement Strategies.
Relative Performance.
Cultural Differences.
Compensation.
Improvement Time Frames and Rhythm.
The Methodology for Setting Targets.
Conclusion.
9 Innovation Drives Transformation.
Technology Enables Transformation.
Operational Improvements and Innovation.
Developing Brand-Focused Communities.
Identifying NetWorked Promoters.
Conclusion.
Resources: Interviews Conducted.
References.
Acknowledgments.
The Authors.
Index.