Anthology for Music in the Nineteenth Century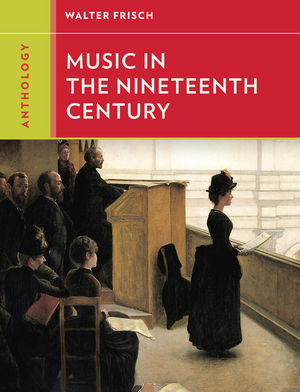 Anthology for Music in the Nineteenth Century
ISBN: 978-0-393-92017-8
*Norton agency titles
368 pages
Product not available for purchase
Description
A concise anthology including a wide range of nineteenth-century music.

Anthology for Music in the Nineteenth Century, part of the Western Music in Context series, is the ideal companion to Music in the Nineteenth Century. Twenty-three carefully chosen works—including movements from a Beethoven quartet, excerpts from operas by Verdi and Bizet, piano music by Gottschalk, and a symphonic movement by Tchaikovsky—offer representative examples of genres and composers of the period. Commentaries following each score present a careful analysis of the music, and online links to purchase and download recordings make listening easier than ever.
1. Nineteenth-Century Music and Its Contexts
2. The Romantic Imagination
3. Music and the Age of Metternich
4. The Opera Industry
5. Making Music Matter: Criticism and Performance
6. Making Music Speak: Program Music and the Character Piece
7. Beyond Romanticism
8. Richard Wagner and Wagnerism
9. Verdi, Operetta, and Popular Appeal
10. Concert Culture and the "Great" Symphony
11. Musical Life and Identity in the United States
12. The Fin de Siècle and the Emergence of Modernism
13. The Sound of Nineteenth-Century Music
CONCISE ANALYSIS
In addition to full scores, the anthology includes concise analyses of the music from both formal and stylistic points of view. Information about form appears in tables, so that students can instantly understand the shape of anthology compositions. In addition to supplying concise analyses, the anthology commentaries also address such issues as sources and performance practice.
EASY ACCESS TO RECORDINGS
A wide range of recording options gives students and instructors flexibility in listening to anthology selections. StudySpace provides links to stream nearly every anthology selection from Naxos (accessible via an institutional subscription or a $25 individual subscription), as well as links to purchase and download recordings from iTunes and Amazon, allowing students to listen to music the way they want. In addition, students can purchase access to, and adopters can request a free DVD of, The Norton Opera Sampler, Norton's groundbreaking collaboration with the Metropolitan Opera that includes two full hours of opera scenes.