Anthology for Music in the Twentieth and Twenty-First Centuries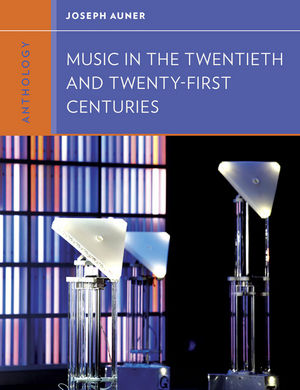 Anthology for Music in the Twentieth and Twenty-First Centuries
ISBN: 978-0-393-92021-5
*Norton agency titles
250 pages
Product not available for purchase
Description
A concise anthology including a wide range of music from the twentieth and twenty-first centuries.

Anthology for Music in the Twentieth and Twenty-First Centuries, part of the Western Music in Context series, is the ideal companion to Music in the Twentieth and Twenty-First Centuries. Twenty-six carefully chosen works—including music by Claude Debussy, Kurt Weill, William Grant Still, Pauline Oliveros, and Chen Yi—offer representative examples of genres and composers of the period. Commentaries following each score present a careful analysis of the music, and online links to purchase and download recordings make listening easier than ever.
Gustav Mahler, Symphony No. 3, fourth movement 
Claude Debussy, Estampes, Pagodes 
Arnold Schoenberg, Pierrot lunaire, No. 1, Mondestrunken 
Alban Berg, Wozzeck, Act 3, Scene 3 
Charles Ives, Symphony No. 4, first movement 
Igor Stravinsky, The Rite of Spring, Introduction 
Kurt Weill, Lindbergh's Flight, Introduction of the Pilot 
Igor Stravinsky, Symphony of Psalms, second movement 
Maurice Ravel, Piano Concerto in G, first movement 
Arnold Schoenberg, Piece for Piano, Op. 33a 
Anton Webern, Symphony Op. 21, second movement 
Béla Bartók, Music for Strings, Percussion, and Celeste, first movement 
Aaron Copland, Billy the Kid, "Street in a Frontier Town" 
William Grant Still, Africa, second movement, Land of Romance 
Benjamin Britten, War Requiem, Requiem aeternam 
Dmitri Shostakovich, String Quartet No. 8, third movement 
Pierre Boulez, Le Marteau sans Maitre, No. 5, Bel Édifice Et Les Pressentiments 
Pauline Oliveros, Traveling Companions 
Mario Davidovsky, Synchronisms No. 6 for Piano and Electronic Sounds (1970), excerpt 
Kaija Saariaho, Noa Noa 
György Ligeti, Continuum for Harpsichord 
Elliott Carter, String Quartet No. 5: Introduction, Giocoso, Interlude, first movement 
George Crumb, Vox Balanae, excerpt 
Chen Yi, Ba Ban 
Steve Reich, Violin Phase 
John Adams, Doctor Atomic, Act 1, Scene 3, "Batter My Heart"
CONCISE ANALYSIS
In addition to full scores, the anthology includes concise analyses of the music from both formal and stylistic points of view. Information about form appears in tables, so that students can instantly understand the shape of anthology compositions. In addition to supplying concise analyses, the anthology commentaries also address such issues as sources and performance practice.
EASY ACCESS TO RECORDINGS
A wide range of recording options gives students and instructors flexibility in listening to anthology selections. StudySpace provides links to stream nearly every anthology selection from Naxos (accessible via an institutional subscription or a US$25 individual subscription), as well as links to purchase and download recordings from iTunes and Amazon, allowing students to listen to music the way they want. In addition, students can purchase access to, and adopters can request a free DVD of, The Norton Opera Sampler, Norton's groundbreaking collaboration with the Metropolitan Opera that includes two full hours of opera scenes.