Anthony Giddens: An Introduction to a Social Theorist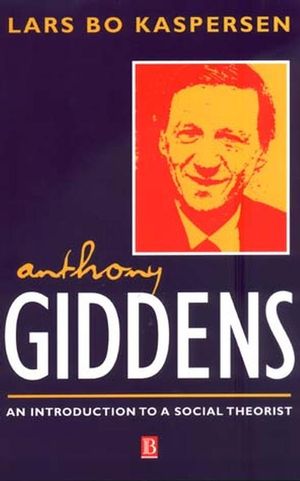 Anthony Giddens: An Introduction to a Social Theorist
ISBN: 978-0-631-20733-7
Aug 2000, Wiley-Blackwell
240 pages
Description
Anthony Giddens is one of the world's most prominent and prolific sociologists, and yet he is also a difficult study for the beginning student of sociology. This is the first introduction to the work of Giddens, including the major part of his sociological and social theoretical project. The author traces Giddens' development from the late sixties to the nineties in a straightforward, readable style, covering all parts of Giddens's sociology in a well-arranged summary. Also featured is a lengthy interview with Giddens by the author, and the most comprehensive Giddens bibliography to date.
Preface.
Introduction.
1. Anthony Giddens, the Positive Critic: the Dialogue with Classical and Modern Sociology.
2 Giddens as Constructor: the Theory of Structuration as a Response to the Dualism of Social Theory.
3 The Theory of Structuration.
4 Giddens's Theory of the State: the Nation-state and War.
5 The Analysis of Modernity: Globalization, the Transformation of Intimacy, and the Post-traditional Society.
6 Giddens and Politics: toward Positive Welfare, Generative Politics, and the Radical Center.
7 The Post-traditional Society and Radical Politics: an Interview with Anthony Giddens.
8 Giddens's Social and Political Theory: Some Critical Viewpoints.

Epilogue.
Bibliography.
Index.
"An outstanding and readable introduction to the work of the UK's leading contemporary sociologist."
William Outhwaite, University of Sussex
"Kaspersen brings a sophisticated understanding of Giddens's entire agenda to this truly accessible text. Newcomers will welcome the reliable consolidations of Giddens's central themes. Advanced theorists will appreciate Kaspersen's trenchant criticisms and his extensive coverage of new developments in Giddens's political thought." Ira J. Cohen, Rutgers University

* Clear and accessible treatment aimed at students being introduced to Giddens for the first time.
* Chronological format shows the development of Giddens's work.
* Includes the most comprehensive bibliography to date of Giddens's work and critical responses.
* Contains lengthy interview with Giddens by the author.