Anthropological Theory Today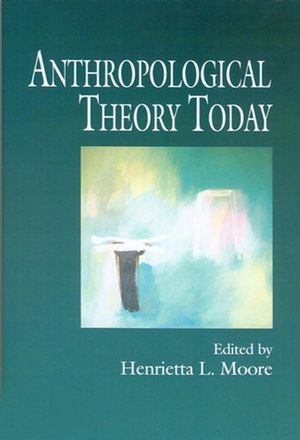 Anthropological Theory Today
ISBN: 978-0-745-62023-7
Jan 2000
304 pages
Description
This important book makes a bold statement about the nature and value of anthropological theory at the beginning of the 21st century.
The Contributors.
1. Anthropological Theory at the Turn of the Century. (Henrietta L. Moore).
2. From Private Virtue to Public Vice. (James G. Carrier and Daniel Miller).
3. Clash of Civilizations of Asian Liberalism?:An Anthropology of the State and Citizenship. (Aihwa Ong).
4. The Economies of Violence and the Violence of Economies. (Catherine Lutz and Donald Nonini).
5. Toward an Ethics of the Open Subject: Writing Culture in Good Conscience. (Debbora Battagli).
6. Whatever Happened to Women and Men: Gender and other Crises in Anthropology. (Henrietta L. Moore).
7. The Body's Career in Anthropology. (Thomas J. Csordas).
8. Human Cognition and Cultural Evolution. Pascal Boyer.
9. Psychoanalysis and Anthropology: On the Temporality of Analysis. (James Weiner).
10. Becoming Undisciplined: Anthropology and Cultural Studies. (Nicholas Thomas).
Index.
'Thoroughly engaging, provocative, and forward-reaching,
Anthropological Theory Today
is a testament to the vigor, diversity, and critical purchase of anthropological theorizing at the late modern end of our century. This is a major and scintillating collection of fresh theoretical contributions - previously unpublished - by an innovative group of anthropology's important scholars. We owe a major debt to Henrietta Moore for having conceptualized this important volume and for introducing it so productively.'
Bruce Knauft, Department of Anthropology, Emory University
'Leading members of the younger generation of anthropologists engage with confidence and passion topics ranging from ideologies of economics, liberalism and military violence to gender, body, self and mind. Readers will find much to learn from and much to debate within these smart, substantial essays that illustrate the ethical and intellectual excitement, range and complexity of contemporary inquiry.' Michael Lambek, Department of Anthropology, University of Toronto

"Moore sees anthropology as a debate as well as a set of practices ... The papers in Anthropological Theory Today are appealing [and] stimulating ... I recommend the book highly to practicing anthropologists and graduate students." Anthropos

'[Individual chapters] ... offer not only fresh ethnography, recent theorizing and good, occasionally sparkling analytical points; but they also reveal the new identity of a discipline that has successfully passed through the tunnel of postmodernism and emerged on the other side.' Ethnos

'There is much to consider in Moore's substantial Introduction as she presents her view of fundamental questions regarding anthropology and theory and as she introduces the nine papers at some depth.' Journal of Anthropological Research

" All the chapters in the book are interesting, One strength of this collection lies in the fact that every chapter indicates what its author/s regard/s as cutting-edge research, as well as noting any gaps in their respective sub-fields. This could be helpful new researchers such as postgraduate students. Another of its strengths lies in the bibliographies provided by the various contributing authors. These appear to be quite comprehensive so that if a particular chapter or sub-field appeals there is a wealth of reading to undertake." Journal of Intercultural Studies

<!--end-->
* A state-of-the-art textbook on anthropological theory.
* The chapters are written by some of the key figures in the field, including Henrietta Moore, Daniel Miller and Nicholas Thomas.
* Covers a range of very topical issues which are at the forefront of debates in anthropology, including gender, the body, cognition and material culture.