Anthropology: Theoretical Practice in Culture and Society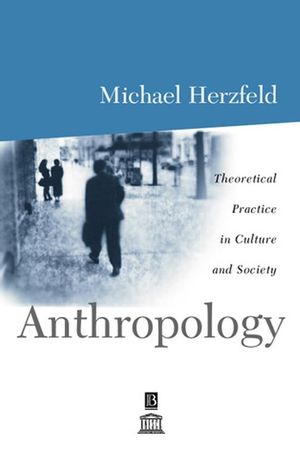 Anthropology: Theoretical Practice in Culture and Society
ISBN: 978-0-631-20659-0 February 2001 Wiley-Blackwell 388 Pages
Description
Not a textbook in the ordinary sense, this work offers a vision of how anthropology - a discipline that operates through intimate knowledge of local societies - can offer vastly increased understanding of society and culture even in this age of mass communication. In its examination of topics ranging as far afield as the mass media, environmental and development issues, kinship and suffering in transnational settings, the politics of both the nation-state and the local community, the arts, cosmologies of science as well as religion, and the relationship between social life and history, this book is not just about an academic discipline; it is about the theoretical as well as ethical commitments that have enabled anthropologists to play a leading role in the critique of racism and other forms of intolerance.
Table of contents
Foreword.
Preface.
1. Orientations: Anthropology as a Practice of Theory.
2. Epistemologies.
3. Histories.
4. Economies.
5. Politics.
6. Borders/Nodes/Groupings.
7. Developmentalisms.
8. Environmentalisms.
9. Cosmologies.
10. Sufferings and Disciplines.
11. Senses.
12. Displays of Order.
13. Aesthetics.
14. Media.
Bibliography.
Index.
Reviews
"A wonderful book.... Anthropology breaks ground in every generation. This sparkling survey does not tell you where anthropology has come from, it is a book about where anthropology has got to now, and where it is going. A splendid publishing event."
--Mary Douglas, University College London
"An intriguing and unusual book! This is at once a collective and an individual work. Herzfeld is a fencing master supreme; in drawing the works of colleagues close to himself, he also parries and diverts them. This is a sharp-witted and agile book that keeps the conversations going until the end. There should be more 'textbooks' like this."
--Marilyn Strathern, University of Cambridge

"A good summary of the state of social and cultural anthropology has not been written in more than 50 years. Thus an overview of this vast discipline that has depth, clarity, nuance, elegance, and breadth is most welcome. This work, required reading for anyone with an interest in the current state of the art in social and cultural anthropology, will require close reading, but it will repay the effort many times over." (Choice)

"Herzfeld is now at the height of his powers, and Anthropology: Theoretical Practice in Culture and Society is a work of daunting scholarship, but more importantly of continual intellectual provocation. In short, and to indulge in the irony that Herzfeld himself recommends, it is a magisterial." (The Australian Journal of Anthropology)
What's New
A textbook on anthropology-although not in any ordinary sense-that offers a vision of the middle ground between theory and practice.

Authored by a leading social and cultural anthropologist, the book, sponsored by UNESCO, offers a pluralistic approach because the author wrote the book in "conversation" with a number of leading anthropologists from around the world.

Offers an overview of the field and a vision of anthropology that avoids polemical extremes-instead taking up a militant stance against both.