Anthropology of Space and Place: Locating Culture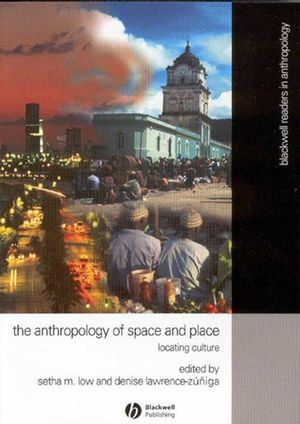 Anthropology of Space and Place: Locating Culture
ISBN: 978-0-631-22878-3
Feb 2003, Wiley-Blackwell
432 pages
Description
The Anthropology of Space and Place: Locating Culture is an unprecedented collection of key anthropological articles that illustrate how the conceptual and material dimensions of space are central to the production of social life.

Assembles key anthropological articles that challenge accepted definitions and ideas of space and place
Reveals how both the conceptual and material dimensions of space as well as of built forms and landscape characteristics are central to the production of social life
Includes introduction that synthesizes existing literature, highlights core issues, and maps potential directions for future research
Brings classics in cultural anthropology together with new theoretical approaches
Introduction (Setha M. Low and Denise Lawrence-Zúñiga).
Part I: Embodied Spaces.
1. Proxemics. (Edward T. Hall).
2. Being-in-the-Market Versus Being-in-the-Plaza: Material Culture and the Construction of Social Reality in Spanish America. (Miles Richardson).
3. Excluded Spaces: The Figure in the Australian Aboriginal Landscape. (Nancy D. Munn).
4. Indexical Speech across Samoan Communities. (Alessandro Duranti).
Part II: Gendered Spaces.
5. The Berber House. (Pierre Bourdieu).
6. The Sweetness of Home: Class, Culture and Family Life in Sweden. (Orvar Löfgren).
7. The Architecture of Female Seclusion in West Africa. (Deborah Pellow).
Part III: Inscribed Spaces.
8. Emergence and Convergence in some African Sacred Places. (James Fernandez).
9. Empowering Place: Multilocality and Multivocality. (Margaret C. Rodman).
10. Open Spaces and Dwelling Places: Being at Home on Hill Farms in the Scottish Borders. (John Gray).
Part IV: Contested Spaces).
11. The Language of Sites in the Politics of Space. (Hilda Kuper).
12. Myth, Space, and Virtue: Bars, Gender, and Change in Barcelona's Barrio Chino. (Gary Wray McDonogh).
13. Black Corona: Race and the Politics of Place in an Urban Community. (Steven Gregory).
Part V: Transnational Spaces.
14. The Song of the Nonaligned World: Transnational Identities and the Reinscription of Space in Late Capitalism. (Akhil Gupta).
15. Sovereignty without Territoriality: Notes for a Postnational Geography. (Arjun Appadurai).
16. Markets and Places: Tokyo and the Global Tuna Trade. (Theodore C. Bestor).
Part VI: Spatial Tactics.
17. Ordonnance, Discipline, Regulation: Some Reflections on Urbanism. (Paul Rabinow).
18. A Place in History: Social and Monumental Time in a Cretan Town. (Michael Herzfeld).
19. After Authenticity at an American Heritage Site. (Eric Gable and Richard Handler).
20. The Edge and the Center: Gated Communities and the Discourse of Urban Fear. (Setha M. Low).
Index.
'A valuable resource for teaching and research. Bringing older work on the symbolics of space together with more recent analyses of the politics of place and contested spatial practices, it gives a fine overview of the depth, range, and vitality of anthropological approaches to space and place.'
James Ferguson, University of California, Irvine
'This stunning collection provides an invaluable guide to an exciting new field: The analysis of the spatial dimensions of culture and the cultural meanings of space and place. It features a clear and comprehensive introduction and a wide-ranging set of articles that reveal the power and potential of this new field of anthropological inquiry.' Sally Engle Merry, Wellesley College

'A rich sourcebook of classic and new perspectives on culture and the physical environment. Encompasses a range of spaces and places from the small-scale to the large-scale; from the body to transnational settings. A terrific resource to spark new questions, ideas, and projects.' Irwin Altman, University of Utah

"Geographers should of course read The Anthropology of Space and Place. Reading this volume also opens up opportunities to refine our strengths as geographers as well as to open up new domains of exploration inspired by the expertise of anthropologists." Progress in Human Geography, Vol 29/1, 2005
Assembles key anthropological articles that challenge accepted definitions and ideas of space and place
Reveals how both the conceptual and material dimensions of space as well as of built forms and landscape characteristics are central to the production of social life
Includes introduction that synthesizes existing literature, highlights core issues, and maps potential directions for future research
Brings classics in cultural anthropology together with new theoretical approaches