Anthropology off the Shelf: Anthropologists on Writing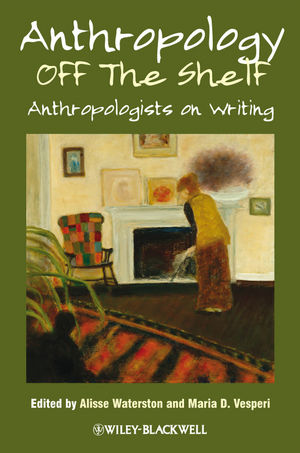 Anthropology off the Shelf: Anthropologists on Writing
ISBN: 978-1-444-30883-9
Mar 2009
232 pages
Description
In Anthropology off the Shelf, leading anthropologists reflect on the craft of writing and the passions that fuel their desire to write books.
First of its kind volume in anthropology in which prominent anthropologists and 3 respected professionals outside the discipline follow the tradition of the "writers on writing" genre to reflect on all aspects of the writing process
Contributors are high-profile in anthropology and many have a strong presence outside the field, in popular culture
Unique in its format: short essays, revealing and straightforward in content and writing style
Acknowledgments.
Notes on Contributors.
Foreword (Cheryl Mwaria).
1. Introduction: The Writer in the Anthropologist (Maria D. Vesperi and Alisse Waterston).
Part I: Conceptions.
2. Speaking Truth to Power with Books (Howard Zinn).
3. Remember When Writing Was Fun? Why Academics Should Go On a Low Syllable, Active Voice Diet (Karen Brodkin).
4. The Bard (Carolyn Nordstrom)
5. Saggin' and Braggin' (Lee D. Baker).
6. Stories for Readers: A Few Observations from Outside the Academy (Andrew Barnes).
Part II: Creations.
7. Writing Poverty, Drawing Readers: Stories in Love, Sorrow and Rage (Alisse Waterston).
8. Write‑ous Indignation: Black Girls, Dilemmas of Cultural Domination and the Struggle to Speak the Skin We Are In (Signithia Fordham).
9. Writing Truth to Power: Racism as Statecraft (Arthur K. Spears).
10. Remembering Octavia (Sharon Ball).
11. Believing in Anthropology as Literature (Ruth Behar).
Part III:  Receptions.
12. Walking in Zora's Shoes or ""Seek[ing] Out de Inside Meanin' of Words"": The Intersections of Anthropology, Ethnography, Identity, and Writing (Irma McClaurin).
13. Off the Shelf and Into Oblivion? (Catherine Kingfisher).
14. ""Don't Use Your Data as a Pillow"" (S. Eben Kirksey).
15. The Trope of the Pith Helmet: America's Anthropology, Anthropology's America (Micaela di Leonardo).
16. The Book that Wrote Me (Roger Sanjek).
17. Fighting Words (Paul Farmer).
18. Taking Chances (Maria D. Vesperi).
Index.
""Anthropology off the shelf ought to be on every introductory reading list..."" (Journal of the Royal Anthropological Institute, August 2010)

"The essays are both provocative and provoking, compelling and edgy. Whether this thrust in anthropology or in academia in general will continue, books like this are required to keep the intellectual energy within the academy vital and engaged. Indispensible reading across disciplines. Summing Up: Essential." (CHOICE, October 2009)
• First of its kind volume in anthropology in which prominent anthropologists and 3 respected professionals outside the discipline follow the tradition of the "writers on writing" genre to reflect on all aspects of the writing process
• Contributors are high-profile in anthropology and many have a strong presence outside the field, in popular culture
• Unique in its format: short essays, revealing and straightforward in content and writing style