Anti-Money Laundering: International Law and Practice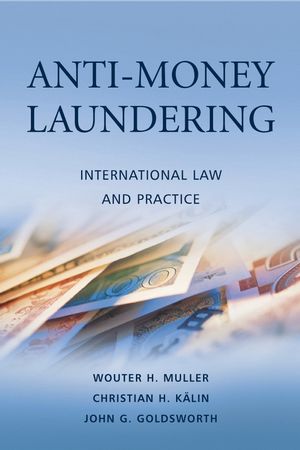 Anti-Money Laundering: International Law and Practice
ISBN: 978-0-470-03319-7 June 2007 836 Pages
Description
Anti-Money Laundering is the definitive reference on money laundering and practice. First an outline will be given of the general approach taken by supra-national organisations like the United Nations and the European Council. Next the approach taken by international organisations and initiatives on the basis of the supra-national initiatives will be outlined by senior members of those organisations. A number of countries will then describe their specific prevention legislation. Countries involved will all be member-countries of the FATF (Financial Action Task Force on Money Laundering). Finally there will be an overview to enable the reader to make a comparison between the most important topics of money laundering legislation and rules in the different countries.
Acknowledgements.
Alliance partners.
About this book.
About the editors.
Foreword.
Professor Kader Asmal, President FATF 2005-2006.
Anti-Money Laundering – A short history.
Wouter H. Muller, editor, Zurich.
INTERNATIONAL ISSUES.
Compliance and AML – Standards, education and training.
William B. Howarth, president ICA, Birmingham (UK).
Anti-Money Laundering Regulation and Trusts.
Martyn Frost, STEP Deputy Chairman, Oldham (UK).
INTERNATIONAL ORGANIZATIONS AND INITIATIVES.
The United Nations Security Council and the effort to combat money laundering and the financing of terrorism.
Joel Sollier, UNSC Counter-Terrorism Committee, New York.
UN Anti-Money Laundering Initiatives.
Rick McDonnell, UNODC, Vienna.
Initiatives of the European Commission.
Franco Frattini, EU Commission, Brussels (Belgium).
The Financial Action Task Force.
Alain Damais, Executive Secretary FATF, Paris (France).
The Egmont Group.
Wouter H. Muller (editor), Zurich.
The Wolfsberg Process.
Mark Pieth, University of Basel.
COUNTRIES.
The Americas.
USA.
John W. Moscow, Rosner Moscow & Napierala LLP, New York.
Canada.
Nancy J. Carroll & Barbara A. McIsaac, McCarthy Tétrault, Toronto/Ottawa (Ontario).
Panama.
Ricardo M. Alba & Eloy Alfaro de Alba, Tapia, Linares & Alfaro, Panama City.
Argentina.
Sebastian A. Soler, Marval, O'Farrell & Mairal, Buenos Aires.
Brazil.
Eliana Maria Filipozzi, Noronha Advogados, London.
Robert Ellis Williams, Noronha Advogados, São Paulo.
Uruguay.
Fabian Rivero, Estudio Bergstein, Montevideo.
Ady Beitler, Montevideo.
Chile.
Cristóbal Eyzaguirre, Felipe Dalgalarrando & Patricio Middleton, Claro y Cia., Santiago de Chile.
Bahamas, Bermuda and Caribbean.
Bermuda.
Craig W. MacIntyre, Conyers Dill & Pearman, Hamilton.
Bahamas.
Cheryl E. Bazard & Tanya C. McCartney, Bahamas Association of Compliance Officers, Nassau.
Cayman Islands.
Martin Livingston, Maples & Calder, Grand Cayman.
British Virgin Islands.
Craig W. MacIntyre, Conyers Dill & Pearman.
Barbados.
Carolyn Hanson, ICA and Barbados Association of Compliance Professionals Christ Church, Barbados.
Netherlands Antilles and Aruba.
Aede Gerbranda, Smeets Thesseling van Bokhorst, Curaçao/Amsterdam.
St. Kitts and Nevis.
Shawna Lake & Idris Fidela Clarke, Ministry of Finance, Basseterre, St. Kitts.
Europe.
Switzerland.
Judith Schmidt, Swiss Money Laundering Control Authority, Berne.
Liechtenstein.
Johannes Gasser & Markus Schwingshackl, Advokaturbüro Dr. Dr. Batliner & Dr. Gasser, Vaduz.
Austria.
Thomas Schirmer & Markus Uitz, Binder Grösswang Rechtsanwälte, Vienna.
United Kingdom.
Peter Burrell & Kate Meakin, Herbert Smith LLP, London.
Jersey.
Andrew le Brun, Jersey Financial Services Commission, St. Helier, Jersey.
Cyprus.
David Stokes,  Andreas Neocleous & Co, Limassol.
Isle of Man.
Nick Verardi & Marc Conway, Dickinson Cruickshank, Douglas (IoM).
Ireland.
John Handoll, William Fry Solicitors, Dublin.
Germany.
Olaf Otting, Gleiss Lutz, Frankfurt/Main.
France.
Philippe Blaquier-Cirelli & Pierre-Yves Couturier, Jeantet Associés, Avocats à la Cour, Paris.
Monaco.
Donald Manasse & Sophie Marquet, Donald Manasse Law Offices, Monaco.
Spain.
Javier García Sanz & Guillermo San Pedro, Uría Menéndez, Madrid.
Italy.
Alberto Giampietri & Paolo Iemma, Gianni Origoni Grippo & Partners, Rome/Milan.
Greece.
D. Karamagiolis, Tsibanoulis & Partners, Athens.
Belgium.
Françoise Lefèvre & Olivier Praet, Linklaters de Bandt, Brussels.
Netherlands.
Enide Perez & Max Vermeij, Stibbe Advocaten, Amsterdam.
Luxembourg.
Pit Reckinger, Elvinger, Hoss & Prussen, Avocats à la Cour, Luxembourg.
Russian Federation.
Valery Tutykhin, John Tiner & Partners, Moscow.
Ukraine.
Dmytro Korbut, Andreas Neocleous & Co, Kiev.
Middle East.
United Arab Emirates.
Messrs Graham Lovett & Charles Barwick, Clifford Chance, Dubai (UAE).
Asia Pacific.
Singapore.
Chee Fang Theng, KhattarWong Advocates & Solicitors, Singapore.
Japan.
Takashi Nakazaki, Anderson Mori Tomotsune, Tokyo.
China.
Donna Li, AllBright Law Offices, Shanghai.
  Gu Xiao Rong, Institute of Law of Shanghai Academy of Social Studies, Shanghai.
Hong Kong.
Steven R. Sieker & L. Travis Benjamin, Baker & McKenzie, Hong Kong.
Australia.
Andrew White, Faculty of Law, University of Melbourne, Victoria.
New Zealand.
David Craig & Simon David, Bell Gully, Barristers and Solicitors, Wellington.
Africa.
South Africa.
Pieter K. Smit, Financial Intelligence Center, Pretoria.
Index.