Antiarrhythmic Drugs: A Practical Guide, 2nd Edition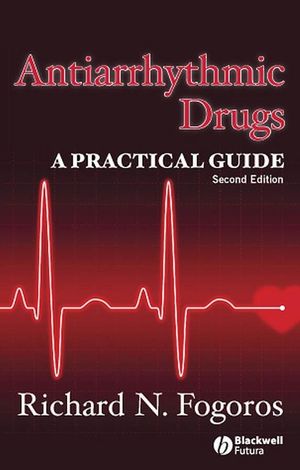 Antiarrhythmic Drugs: A Practical Guide, 2nd Edition
ISBN: 978-0-470-69252-3 April 2008 Wiley-Blackwell 192 Pages
Description
If you prescribe for patients with arrhythmias, you will want to keep this valuable paperback close at hand. The Second Edition of this valuable reference responds to changes in the available medications as well as in the way they are currently used.
The book reviews everything you need to understand and prescribe today's antiarrhythmic drugs:



mechanisms of cardiac arrhythmias and how antiarrhythmic drugs alter those arrhythmias, including common adverse effects

which factors to consider in using these drugs for treatment of supraventricular tachyarrhythmias, ventricular arrhythmias, and arrhythmias in pregnancy

a detailed review of atrial fibrillation to help you make decisions for patient management in this complicated area
Dr. Fogoros considers all the most recent drugs, plus promising drugs under investigation, to give you a full picture of therapeutic options. With Antiarrhythmic Drugs: A Practical Guide, Second Edition, you will have dependable information on how each drug works and when each one is indicated so you can give your patients the best possible treatment.
Table of contents
Preface.
Acknowledgements.
Part 1 Basic Principles.
Chapter 1 Mechanisms of Cardiac Tachyarrhythmias.
Chapter 2 Introduction to Antiarrhythmic Drugs.
Part 2 Clinical Features of Antiarrhythmic Drugs.
Chapter 3 Class I Antiarrhythmic Drugs.
Chapter 4 Class II Antiarrhythmic Drugs; Beta-Blocking Agents.
Chapter 5 Class III Antiarrhythmic Drugs.
Chapter 6 Class IV Drugs: Calcium-Blocking Agents.
Chapter 7 Unclassified Antiarrhythmic Agents.
Chapter 8 Investigational Antiarrhythmic Drugs.
Chapter 9 Common Adverse Events with Antiarrhythmic Drugs.
Part 3 Antiarrhythmic Drugs in the Treatment of Cardiac Arrhythmias.
Chapter 10 Basic Principles of Using Antiarrhythmic Drugs.
Chapter 11 Treatment of Supraventricular Tachyarrhythmias.
Chapter 12 Treatment of Ventricular Arrhythmias.
Chapter 13 Treatment of Arrhythmias in PregnancyIndex
Features
● A new edition of a popular guide responding to both changes in the available medications and the way they are currently used
● Provides dependable guidance for every member of the patient care team
● A handy paperback covering all the information cardiologists need to know about antiarrhythmic drugs
● Covers basic principles; clinical features of antiarrhythmic drugs and antiarrhythmic drugs in the treatment of cardia arrythmias