Antidepressants, Antipsychotics, Anxiolytics: From Chemistry and Pharmacology to Clinical Application, 2 Volume Set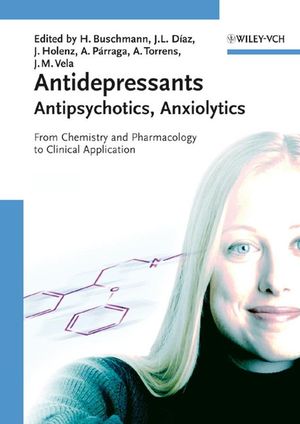 Antidepressants, Antipsychotics, Anxiolytics: From Chemistry and Pharmacology to Clinical Application, 2 Volume Set
ISBN: 978-3-527-61933-7
Feb 2008
1260 pages
Description
Antidepressants and related psychiatric drugs are the most important prescription drugs worldwide, accounting for a market volume of 20 billion US$ per year. This handbook provides a complete and detailed overview of all currently available psychiatric drugs, covering more than 250 different compounds.
Particular features include:
* the most important information on the chemistry, pharmacology and therapeutic use of a given drug
* a special layout with margin notes and compound structures allowing for quick and easy access to the desired information
Written by drug developers from the pharmaceutical industry, novel drugs currently under development and new methods of treatment are listed side by side with classical drugs, allowing a direct comparison of traditional and innovative therapeutic approaches.
VOL. 1
DEPRESSIVE DISORDERS
Neurobiology of Mood Disorders
Clinical Aspects of Depressive Disorders
Pharmacotherapy of Depression
Modeling Human Depression by Animal Models
Marketed Drugs and Drugs in Development
- summary of drug classes
- tricyclic and tetracyclic antidepressants
- serotonergic agents
- noradrenaline reuptake inhibitors
- monoamine oxidase inhibitors
- miscellaneous agents
- compounds launched in single countries
- new opportunities for marketed drugs
- antidepressants in development

SCHIZOPHRENIA AND OTHER PSYCHOSES
Current Status and Challenges in Schizophrenia Research
Schizophrenia: A Clinical Review
Pharmacotherapy of Schizophrenia
Modeling Schizophrenia in Experimental Animals
Marketed Drugs and Drugs in Development
- summary of drug classes
- typical antipsychotics
- atypical antipsychotics
- drugs in development

VOL. 2
ANXIETY
Introductory and Basic Aspects
Clinical Aspects of Anxiety
Pharmacology of Anxiety
Modeling Human Anxiety by Animal Models
Marketed Drugs and Drugs in Development
- summary of drug classes
- benzodiazepines
- serotonergic drugs
- GABAergic agents
- dopaminergic agents
- serotonin reuptake inhibitors
- 5-HT2 receptor antagonists
- beta-adrenoceptor antagonists
- glucocorticoid receptor antagonists
- GAT-1 inhibitors
- calcium channel blockers
- compounds with unknown mechanism of action
- drugs in development

ATTENTION DEFICIT AND HYPERACTIVITY DISORDERS
Neurobiological Aspects of ADHD
Clinical and Therapeutical Facts
Pharmacology
Marketed Drugs and Drugs in Development

GLOSSARY