Antioxidants in Muscle Foods: Nutritional Strategies to Improve Quality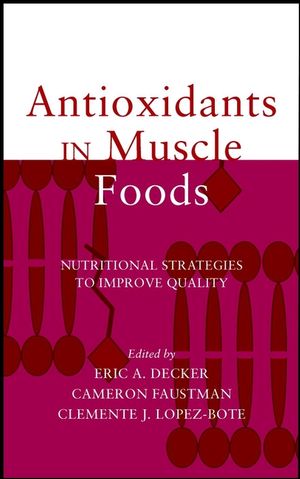 Antioxidants in Muscle Foods: Nutritional Strategies to Improve Quality
ISBN: 978-0-471-31454-7
Feb 2000
512 pages
Description
A complete guide to the use of dietary antioxidants in muscle food products Advances in food and animal science have given rise to a variety of nutritional strategies for improving the quality of muscle food products, from livestock to fish. Antioxidants in Muscle Foods describes a new methodology in this emerging field, which involves the use of dietary antioxidants to improve meat quality while avoiding exogenous food additives or packaging procedures. Through expert contributions by leading scientists from around the globe, this important book answers questions about the science and technology, benefits, and concerns associated with antioxidant supplementation in muscle foods. Photographs, illustrations, charts, and tables accompany in-depth discussions on:
* Oxidative processes in muscle foods
* Dietary strategies for improving the oxidative stability of muscle foods
* The beneficial impact of vitamin E supplementation on meat quality
* Economic and safety implications of nutritionally modified meat
* Food industry applications involving meat, poultry, and seafood
* Animal nutrition and muscle biochemistry
* New areas where nutritional strategies can improve meat quality
OXIDATIVE PROCESSES IN MUSCLE FOODS.

Oxidation of Lipids in Muscle Foods: Fundamental and Applied Concerns (F. Monahan).

Mechanisms of Endogenous Skeletal Muscle Antioxidants: Chemical and Physical Aspects (E. Decker, et al.).

Antioxidant Activity of Carotenoids in Muscle Foods (A. Mortensen & L. Skibsted).

Protein Oxidation and Implications for Muscle Food Quality (Y. Xiong).

Oxidative Processes and Myoglobin (M. Renerre).

Potential Mechanisms by Which Vitamin E Improves Oxidative Stability of Myoglobin (C. Faustman & K.-W. Wang).

UTILIZATION OF DIETARY STRATEGIES TO INFLUENCE THE ANTIOXIDANT COMPOSITION OF MUSCLE.

Potential for Altering Quality of Muscle and Milk from Ruminants (D. Schaefer).

Monogastric Nutrition and Potential for Improving Muscle Quality (C. Wenk, et al.).

Improvement of Oxidative Stability of Beef and Lamb with Vitamin E (J. Kerry, et al.).

Vitamin E and the Oxidative Stability of Pork and Poultry (P. Morrissey, et al.).

Dietary Delivery of Carotenoids (O. Torrissen).

Dietary Delivery versus Exogenous Addition of Antioxidants (M. Mitsumoto).

Dietary Treatment and Quality Characteristics in Mediterranean Meat Products (C. Lopez-Bote).

Alteration of Cooked and Processed Meat Properties via Dietary Supplementation of Vitamin E (G. Bertelsen, et al.).

SCIENTIFIC AND ECONOMIC IMPLICATIONS OF MUSCLE WITH ALTERED COMPOSITION.

Economic Implications of Improved Color Stability in Beef (G. Smith, et al.).

Potential Interactions Between Antioxidants and Microbial Meat Quality (J. Sofos, et al.).

Utilizing Diet to Incorporate Bioactive Compounds and Improve the Nutritional Quality of Muscle Foods (B. Lynch & J. Kerry).

About OECD.

Index.
"This book should stimulate discussion in food science departments worldwide" (
Food Science & Technology Today
, Vol 14/4, 2000)
"...has great informative value...very important source of sound information...recommended..." (Journal of Food Biochemistry, Vol. 26, 2003)