Antisense and Ribozyme Methodology: Laboratory Companion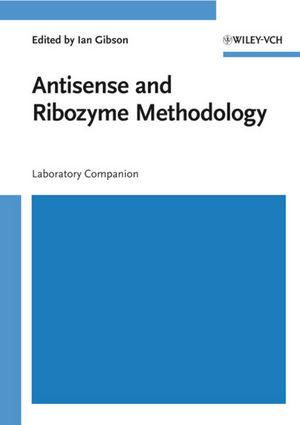 Antisense and Ribozyme Methodology: Laboratory Companion
ISBN: 978-3-527-61253-6
May 2008, Wiley-Blackwell
92 pages
Description
Antisense and ribozymes have a relatively short yet successful history as research tools in gene expression studies, and thus are considered as having high potential reagents in treating viral infections and cancer.
This laboratory companion provides detailed information on the potential, advantages and limitations of this methodology. It critically discusses potential pitfalls, presents strategies for choosing targets and delivery systems, so as to allow the selection of the optimum methodology for achieving fast and reliable experimental success with any human or other biological system.
For researchers, technicians and advanced graduates in experimental medicine, molecular and cell biology.

Chapter 1. Antisense and Ribozyme Methodology.
Chapter 2. Design and Synthesis of Antisense DNA Molecules.
Chapter 3. The Design and Synthesis of Hammerhead Ribozymes.
Chapter 4. Delivery of Ribozymes and Antisense DNA Molecules into Mammalian Cells.
Chapter 5. The Future.
Appendix.
Subject Index.
"...recommended for researchers involved in drug discovery." (The Biotech Journal, April/May 2003)