Antiviral Drug Discovery for Emerging Diseases and Bioterrorism Threats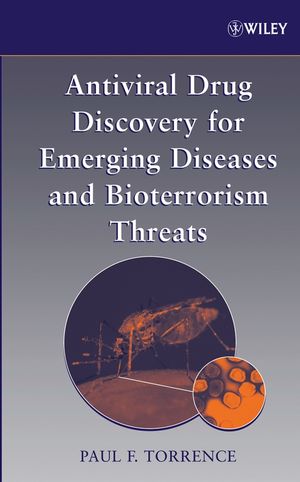 Antiviral Drug Discovery for Emerging Diseases and Bioterrorism Threats
ISBN: 978-0-471-71671-6
Jan 2005
400 pages
Description
Antiviral Drug Discovery gives readers a cutting-edge view of how chemical concepts are being mobilized to develop novel approaches that will effectively confront emerging diseases and biowarfare. Among the many topics discussed are smallpox, the Ebola virus, influenza, SARS, arenaviruses and flaviviruses. Each chapter discusses hypothetical strategies for the discovery of relevant antiviral agents, recent findings related to biochemistry or drug discovery, and advances in the further development of established leads in the area. Timely and informative, this book clearly delineates the efforts being made to develop new and effective broad-spectrum antiviral agents.
Preface.
Contributors.
1. Introduction: Pestilence, Plague, Bioterrorism (Paul F. Torrence).
2. Viral Bioterrorism and Antiviral Countermeasures (Mike Bray).
3. Overview of Antiviral Drug Discovery and Development (Christopher K. Tseng).
4. Antiviral Drug Targets and Strategies for Emerging Viral Diseases and Bioterrorism Threats (Erik De Clercq).
5. Perspectives for the Therapy Against Arenavirus Infections (Elsa B. Damonte and Cybele C. García).
6. S-Adenosylhomocysteine Hydrolase Inhibitors as a Source of Anti-Filovirus Agents (Stewart W. Schneller and Minmin Yang).
7. Antiviral Strategies for Ebola Virus (Jillian M. Licata and Ronald N. Harty).
8. IMPDH Inhibitors: Discovery of Antiviral Agents Against Emerging Diseases (Vasu Nair).
9. Lethal Mutagenesis: Exploiting Error-Prone Replication of Riboviruses for Antiviral Therapy (Jason D. Graci and Craig E. Cameron).
10. Structural Biology of Flaviviral Replication and Opportunities for Drug Design (Krishna Murthy).
11. Confronting New and Old Antiviral Threats: Broad Spectrum Potential of Prenylation Inhibitors (Menashe Elazar and Jeffrey S. Glenn).
12. West Nile Virus: New Targets for Potential Antivirals (Matthias Kalitzky, Holger Rohde, and Peter Borowski).
13. The Emergence of Pandemic Influenza A: Bioterrorist Versus Mother Nature (John S. Oxford, Alison Boyers, Alex Mann, and R. Lambkin).
14. Discovery and Development of New Antivirals for Smallpox (Earl R. Kern).
15. Viral Countermeasures to the Host Interferon Response: Role of the Vaccinia Virus E3L and K3L Genes (Jeffrey O. Langland, Vanessa Lancaster, and Bertram L. Jacobs).
16. Broad-Spectrum Antiviral Prophylaxis: Inhibition of Viral Infection by Polymer Grafting with Methoxypoly(ethylene glycol) (Lori L. McCoy and Mark D. Scott).
17. Viral Evasion of the Interferon System: Novel Targets for Drug Discovery (Paul F. Torrence and Linda Powell).
Index.
"...will serve as an excellent foundation for persons interested in basic research in the field of antiviral drug development and new strategies for viral inhibition." (Clinical Infectious Diseases, February 2007)