Anxiety and Depression Workbook For Dummies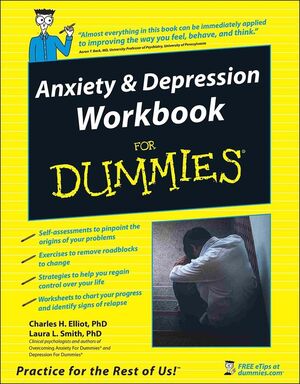 Anxiety and Depression Workbook For Dummies
ISBN: 978-0-471-78412-8 October 2005 312 Pages
Description
From identifying your triggers to improving your relationships -- manage your emotional wellbeing

Struggling to cope with anxiety and/or depression? Have no fear -- this hands-on guide focuses on helping you pinpoint the root of your problems and find relief from your symptoms in a detailed, step-by-step manner. With concise, eye-opening exercises, you'll understand how to assess your current situation, remove the roadblocks to change, face your fears, and improve your view of yourself and the world around you. You'll see how to take direct action to alter negative or distorted thinking, lift your moods, and adopt positive habits that will lead you toward a more joyful, meaningful, and connected life!

Discover
* How to improve the way you feel about yourself
* Skills to face and overcome what makes you anxious or depressed
* How to determine whether medication is an option for you
* Practical ways to prepare for and deal with setbacks
Table of contents
Foreword.
Introduction.
Part I: Analyzing Angst and Preparing a Plan.
Chapter 1: Sorting Out Signs of Anxiety and Depression.
Chapter 2: Discovering the Beginnings.
Chapter 3: Overcoming Obstacles to Change.
Chapter 4: Minding Your Moods.
Part II: Thinking About Thinking: Thought Therapy.
Chapter 5: Untangling Twisted Thinking.
Chapter 6: Indicting and Rehabilitating Thoughts.
Chapter 7: Correcting Your Life-Lenses: A New Vision.
Chapter 8: Managing Mindfulness and Achieving Acceptance.
Part III: Actions Against Angst: Behavior Therapy.
Chapter 9: Facing Feelings: Avoiding Avoidance.
Chapter 10: Lifting Mood Through Exercise.
Chapter 11: Entertaining Enjoyment.
Chapter 12: Getting Moving and Tackling Life's Problems.
Part IV: Phocus on Physical Pheelings.
Chapter 13: Relaxing the Heart and Soul.
Chapter 14: Making the Medication Decision.
Part V: Relationship Therapy.
Chapter 15: Restoring Relationships.
Chapter 16: Smoothing Out Conflict.
Part VI: Looking Beyond Anxiety and Depression.
Chapter 17: Reining In Relapse.
Chapter 18: Promoting Positives.
Part VII: The Part of Tens.
Chapter 19: Ten Resources for Help.
Chapter 20: Ten Quick Ways Out of Upset.
Index.