ApertureTM Exposed: The Mac® Photographer's Guide to Taming the Workflow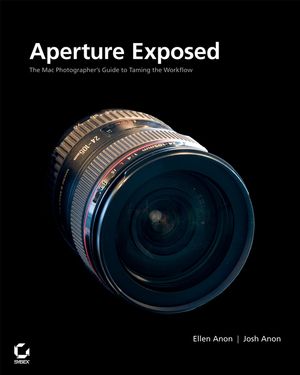 ApertureTM Exposed: The Mac® Photographer's Guide to Taming the Workflow
ISBN: 978-0-470-04019-5
Aug 2006
297 pages
Product not available for purchase
Description
Aperture Exposed provides a comprehensive yet easy-to-read guide for taking advantage of the new power and abilities provided by Aperture. The book takes an unfamiliar interface and feature set and makes it logical and intuitive so that Aperture quickly feels like an old friend. Aperture Exposed is visual and easy to understand yet comprehensive; readers will immediately see that it was written by photographers for photographers, without all the entry-level clutter found in most books that try to please everyone. Itâ??s completely organized to follow a professional workflow.

Ellen Anon is an Apple Certified Trainer in Aperture and a renowned photo workshop instructor; she teaches thousands of photographers every year how to shoot, organize, and edit their images in person and through her writing. Photographer Josh Anon applies his experience in Mac OS X photo software engineering to reveal Aperture's secrets, from time-saving tips to advanced workflow customization advice.

Aperture Exposed is the best coverage available of what working pros need to know, including the 1.0.1 and 1.1 updates. And now, Ellen and Josh have made available a report on "What's New in Aperture 1.5", a companion to the book for users of the latest version; download the free booklet from www.sunbearphoto.com.

With a foreword by master photographer Charles Glatzer, Aperture Exposed is the photographer's authority on Apple's workflow solution.
Introduction.
Chapter 1: Welcome to Aperture.
What Is Aperture?
The Photo Library.
Projects.
Albums.
Metadata.
Smart Albums.
The Library Project.
Importing Images.
Stacking.
Metadata.
Browsing and Viewing Images.
Light Tables.
Full Screen Mode.
Adjusting Images.
External Editors.
Sharing Images.
Books.
Web Pages.
Printing.
Slideshows.
Email.
Exporting Images.
Vaults.
Chapter 2: Importing and Organizing Your Images.
The Import Panel.
Importing from a Camera.
Stacking Images in the Import Window.
Metadata.
Projects.
Task List.
Importing from a Disk.
Drag and Drop.
Importing from iPhoto.
Organizing Your Photos.
Working with Stacks.
Albums.
Smart Albums.
Chapter 3: Viewing Images.
Viewing Images in Aperture.
Viewing Modes.
Louping Your Images.
Onscreen Proofing.
Viewing Metadata.
Window Layouts.
Full Screen Mode.
Viewing Options with Multiple Monitors.
Light Tables.
Slideshows.
Chapter 4: Finding the Keepers.
Metadata, Keywords, and Ratings.
Understanding Metadata Formats.
Viewing Metadata in Aperture.
Using Keywords.
Rating Images.
Changing Metadata on Multiple Images.
Finding Your Images.
Smart Albums with Keywords.
Backing Up Your Images.
Vaults.
General Backup Concepts.
Chapter 5: Nondestructive Image Processing.
Overview of the Tools.
Using the RAW Fine Tuning Controls.
Adjusting the Boost Parameters.
Adjusting the Sharpening Parameters.
Setting the Chroma Blur Parameters.
Using Auto Noise Compensation.
Default RAW Fine Tuning Settings.
Migrating Your Images to Aperture 1.1.
Using the Histograms.
Using the Image Processing Tools.
Using the Toolbar Tools.
Using the Adjustment Filters.
Batch Processing.
Understanding Masters and Versions.
Chapter 6: Exporting Images.
Opening Images in an External Editor (Photoshop).
Specifying the External Editor.
Opening Images in Photoshop.
Common Situations When Using Photoshop Is Beneficial.
Exporting Images.
Using Export Presets with Versions.
Exporting to Email.
Exporting Master Files.
Exporting a Project.
Importing a Project.
Chapter 7: Printing.
Color-Managed Workflow.
Monitor Calibration.
Soft Proofing Images.
Printing Images.
Printing Single Images.
Ordering Prints through Aperture.
Printing a Contact Sheet.
Printing a Collage from the Light Table.
Chapter 8: Creating Web Content.
Creating Websites.
Creating Web Galleries.
Smart Web Galleries.
Creating Web Journals.
Exporting Your Site.
Using Other Tools to Make Websites with Aperture.
Making Custom Web Themes.
What's in a Theme?
Editing the global.css File.
Editing the HTML Templates.
Trying It Out.
Chapter 9: Creating a Book.
Overview of the Book Creation Process.
Tools in the Book Layout Editor.
Creating and Customizing a Book.
Starting the Book Album.
Choosing a Theme.
Laying Out the Book.
Finishing the Book.
Chapter 10: Advanced Aperture.
Automator.
Batch Rename.
Aperture to iPhoto.
Aperture to an iDVD Slideshow.
Automatically Import from a Folder to Aperture.
Separate JPEGs and Import to Aperture.
Auto-Open in Adobe Camera RAW.
Multiple Photo Libraries.
Aperture Library Spanner.
Exploring the Photo Library.
Exploring Project Bundles.
Smart Folders to Find Your Aperture Images.
RAW Files as Smart Objects.
Troubleshooting Aperture.
Image-Specific Problems.
Global Problems.
Index.