Apoptosis and Autoimmunity: From Mechanisms to Treatments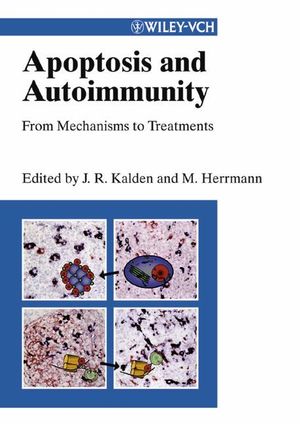 Apoptosis and Autoimmunity: From Mechanisms to Treatments
ISBN: 978-3-527-60529-3 March 2006 Wiley-Blackwell 392 Pages
Description
This is the first comprehensive book about the relationship between apoptosis and autoimmune diseases.
It offers a unique up-to-date overview on research results on the defective execution of apoptosis and the incomplete clearance of apoptotic cells. The molecular and cellular mechanisms involved are described in detail. As a possible consequence of apoptotic dysfunction, the development of severe autoimmune diseases (e.g., rheumatoid arthritis, systemic lupus erythematosus) is discussed. An outlook on future research topics includes the evaluation of novel therapeutic strategies.

Preface.
List of Contributors.
PART 1: GENERAL FEATURES OF APOPTOSIS.
Apoptosis and Autoimmunity (K. Elkon).
Caspase Knockouts: Matters of Life and Death (S. Lakhani, et al.).
PART 2: CLEARANCE OF APOPTOTIC CELLS.
Anti-inflammatory and Immunoregulatory Effects of Apoptotic Cells (R. Voll, et al.).
Complement and Apoptosis (D. Mevorach).
Soluble Factors that Bind to Dying Cells Control the Outcome of Corpse Disposal: The Role of Pentraxins, Collectins and Autoantibodies (P. Rovere-Querini).
The Role of ATP-binding Cassette Transporters in the Clearance of Apoptotic Cells: A Tale of Two Systems (V. Rigot & G. Chimini).
Innate Immunity and Apoptosis: CD14-dependent Clearance of Apoptotic Cells (C. Gregory & A. Devitt).
PART 3: AUTOIMMUNITY CAUSED BY DEFECTIVE EXECUTION OF APOPTOSIS OR DEFECTIVE CLEARANCE OF APOPTOTIC CELLS.
Autoimmune Lymphoproliferative Syndromes (ALPS) (F. Rieux-Laucat, et al.).
Infection and Inflammation as Cofactors for Autoimmunity of Systemic Lupus Erythematosus Patien ts (H. Lorenz).
Apoptosis in Rheumatoid Arthritis (Y. Yamanishi & G. Firestein).
Systemic Lupus Erythematosus (T. Beyer, et al.).
PART 4: IMMUNOGENICITY OF APOPTOTIC CELLS.
Dendritic Cells Pulsed with Apoptotic Tumor Cells as Vaccines (L. Jenne & B. Sauter).
The Immune Response against Apoptotic Cells (A. Manfredi).
PART 5: "ALTERED SELF" IN DYING CELLS.
Autoantigens as Substrates for Apoptotic Proteases: Implications for the Pathogenesis of Systemic Autoimmune Disease (A. Rosen & L. Casciola-Rosen).
Distinct Cleavage Products of Nuclear Autoantigens in Apoptosis and Necrosis: Implications for Autoimmunity (C. Casiano, et al.).
'Tissue' Transglutaminase and Autoimmunity (A. Amendola & M. Piacentini).
Modification of RNA - Antigens in apoptosis (P. Utz).
PART 6: THE ROLE OF DNA BINDING PROTEINS FOR SYSTEMIC AUTOIMMUNITY.
Nucleosomes and Anti-Nucleosome Autoantibodies as Mediators of Glomerular Pathology in Systemic Lupus Erythematosus (K. Dieker, et al.).
Glossary.
Subject Index.
"...illustrated by original figures, schemas, and tables and contains interesting experimental data...well written and organized...." (Pharmaceutical Research, Vol. 20, No. 12, December 2003)