AppleScript For Dummies, 2nd Edition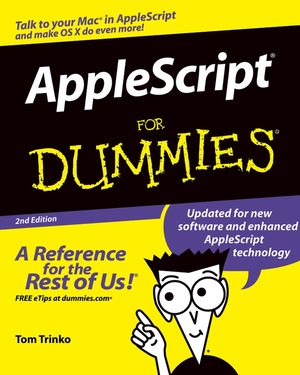 AppleScript For Dummies, 2nd Edition
ISBN: 978-0-764-57494-8 September 2004 402 Pages
Description
Spending a little time with this book can save lots of time on the computer!

AppleScript is object-oriented programming language used to write script files to automate tasks and customize applications for the Mac. AppleScript can automate much of what you do with your Mac computer, saving time and helping you be more productive. Businesses and individuals frequently use it for:
Batch processing
File conversion and manipulation
Performing tasks at specified times
Transferring information between databases and other applications
Creating automated workflows by linking the actions of multiple applications to perform a series of related tasks
Written by Tom Trinko, a Mac man since 1984,and author of articles for MacTutor and MacTech Journal, AppleScript For Dummies, 2nd Edition covers everything from the basics to more advanced stuff, with information on:
Finding and installing AppleScript
Using AppleScript to automate tasks in programs such as Word, Excel, FileMaker Pro, and the Mac OS Finder
Arranging applications to work together to accomplish complex tasks
Controlling applications that aren't even scriptable
Taking advantage of tools that make composing AppleScript programs easy and fun
Finding additional AppleScript information on the Internet and elsewhere
With this book, you'll discover how to script Internet activities, iLife applications, and more. Then, instead of letting your computer and/or software dictate how you do things (and often, how you have to do them over and over and over), you take charge! You'll agree —this book is MacNificent!
Introduction.
Part I: Getting Started.
Chapter 1: A Cannonball Dive into the Scripting Pool.
Chapter 2: AppleScript Basics without Stomach Acid.
Chapter 3: Writing a Script without Ink.
Part II: All You Ever Needed to Know about AppleScript You Learned in Part II.
Chapter 4: Values: Different Types of Information.
Chapter 5: Variables: Data Cupboards.
Chapter 6: Operators: Math without Mistakes.
Chapter 7: References: Being Picky about Data.
Chapter 8: Commands: Ordering AppleScript Around.
Chapter 9: I/O (I Owe) without Credit Cards.
Chapter 10: If: Letting Your Computer Make Decisions So You Can Blame It Later.
Chapter 11: Repeat: Going in Circles for Fun and Profit.
Chapter 12: Try: Dealing with Problems without Crashing.
Chapter 13: Handlers: Organizing Your Script.
Chapter 14: Properties: Storing Data for Awhile.
Chapter 15: Deploying Scripts: Cool Ways to Access Scripts.
Chapter 16: Autonomous Scripts: Working Unsupervised.
Chapter 17: Taking Charge of Applications.
Chapter 18: Debugging: Fixing Problems without DDT.
Chapter 19: Scripting Additions: Taking AppleScript to New Heights.
Chapter 20: Script Objects: Recycling Scripts for a Healthy Environment.
Chapter 21: Miscellaneous Advanced Stuff.
Part III: How to Control the World—or at Least Some Common Programs.
Chapter 22: Finder/System Tricks without Touching the Mouse.
Chapter 23: Business Applications and Microsoft Office 2004.
Chapter 24: Layout and Graphics Applications.
Chapter 25: Scripting the Web.
Chapter 26: Scripting iLife.
Chapter 27: GUI Scripting.
Part IV: The Part of Tens.
Chapter 28: More Than Ten Scriptable Applications.
Chapter 29: More Than Ten Scripting Resources.
Index.