Applications of Synthetic Resin Latices , Volume 3, Latices in Diverse Applications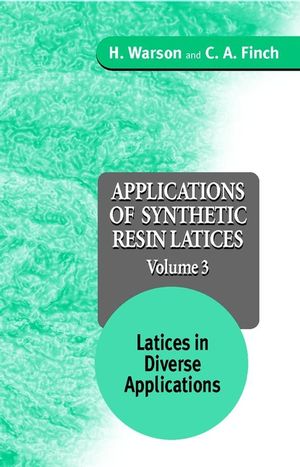 Applications of Synthetic Resin Latices , Volume 3, Latices in Diverse Applications
ISBN: 978-0-471-95462-0 October 2001 544 Pages
Description
This volume discusses latices in surface coatings in regards to diverse applications. These water-based latices are playing a far greater role in many applications and match the growing concern over environmental safety. This book is available separately or as part of a 3-volume set and offers an insight into the advances and developments in this field.
* Covers the principles and practice of the use of latex-based systems in building and construction products, paper coating, textile treatment, polishes and many other specialised applications
As a comprehensive account of the science of polymer latices, these volumes are an invaluable resource for research workers and end-users in academia and industry working on water-based paints, adhesives, emulsions, dispersions and coatings.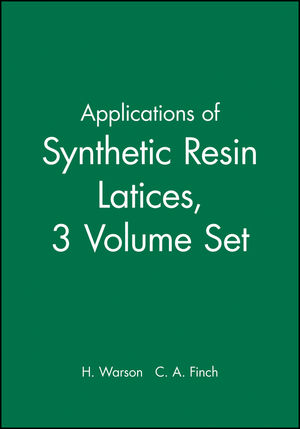 Buy Set of 3 Items
This item: Applications of Synthetic Resin Latices , Volume 3, Latices in Diverse Applications
Original Price:$1,815.00
Purchased Together:$1,645.00
save $170.00
Table of contents
Preface.

A Note on References.

Patent Validity.

Introduction.

Applications of Synthetic Resin Latices in the Construction and Building Industries--Bonding and Sealants.

Introduction.

Adhesives and Sealants.

Plasters and Hydraulic Binding Agents.

Cement Additives.

Formulations for Specific Applications.

Latex-based Additivies for Cement Formulations.

Cement-Free Compositions.

Decorative Facings and Wall Coatings.

Applications of Latices in the Paper Industry.

General Introduction.

Beater Addition.

Impregnation of Paper.

Paper and Paperboard Coatings.

Wallpaper Coatings.

Special Coatings and Effects.

Methods of Paper Testing.

Latices in Leather Finishing.

General.

Finishing.

Leather as a Substrate.

Leather Finishing Binders.

Some Specific Formulations.

Polymerisation in situ in Skins.

Treatment with Non-vinyl Latex Dispersions.

Binding of Leather Scrap with Latices.

Test Methods.

Applications of Polymer Latices in Manufacture and finishing of Textiles.

Introduction.

Warp Sizing.

Sizing with Vinyl Latices.

Finishing with Crosslinking Resins.

Cationic Finishes.

Treatment of Specific Fibres and Fabrics.

Finishes for Specific Objectives.

Fabric Laminating and Flocking.

Latices in Non-Woven Fabric Manufacture.

Carpet and Upholstery Applications.

Pigment Dyeing and Printing.

Coated and Impregnated Fabrics.

Direct Fibre Spinning from Emulsions.

Applications of Synthetic Resin Latices in Polishes.

Introduction.

Emulsion Polish Ingredients.

Waxes, Natural and Synthetic.

Alkali-Soluble Resins.

Plasticisers and Levelling Agents.

Minor Additives.

Formulation of Polishes and Sealants.

Polymer Latices with Metal-Based Crosslinking Agents.

Acid-Removable Polishes.

Miscellaneous Applications of Polymer Latices.

Introduction.

Applications as a Binder.

Applications Related to Foods.

Glass Fibre Treatment.

Vibration Damping and Sound Deadening.

Photographic and Copying Systems.

Coatings for Synthetic Films and Sheets.

Other Miscellaneous Applications of Latexes.

Non-film-Forming Latices.

Index.