Applications of Vibrational Spectroscopy in Pharmaceutical Research and Development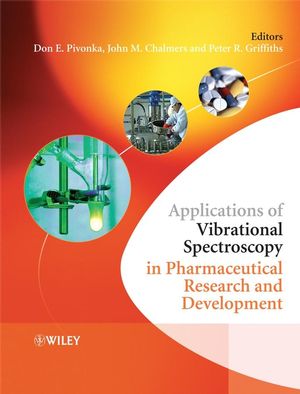 Applications of Vibrational Spectroscopy in Pharmaceutical Research and Development
ISBN: 978-0-470-87087-7
May 2007
384 pages
Description
Although vibrational spectroscopy is a critical technology within the pharmaceutical industry, currently the literature regarding its applications in the field is fragmented. At present there is no single volume that brings together the diverse aspects of vibrational spectroscopy at a level that will provide value to the dedicated spectroscopist as well as to the synthetic, development and medicinal based chemists, alike. This volume aims to present key themes, established and emerging, within current research as well as presenting detailed contributions on the instrumentation, methodology, data treatment, and applications associated within this area of research. It will provide a consolidated "road map" to the practice of this science within the industry.
Buy Both and Save 25%!
Original Price:$603.00
Purchased together:$452.25
save $150.75
Cannot be combined with any other offers.
Part One: Introduction
Introduction to Vibrational Spectroscopy

Peter R. Griffiths
Part Two: Drug Discovery
Sampling Techniques and Fiber-Optic Probes

John M. Chalmers and Peter R. Griffiths
Vibrational Spectroscopy in the Discovery Phase Component of Pharmaceutical Research

Don E. Pivonka
Applications of Vibrational Spectroscopy to Combinatorial Chemistry

Don E. Pivonka
Vibrational Spectroscopic Analysis for the Determination of Structure-Activity Relationships (SARs) in Molecular Binding

Don E. Pivonka and Isao Noda
Applications of Vibrational Optical Activity in the Pharmaceutical Industry

Laurence A. Nafie and Rina K. Dukor
Characterization and Optimization of Chemical Synthesis Using Real-Time Vibrational Spectroscopy

Fadi Homsi, Paul Barrett, Jian Wang and Roel Ferwerda
Part Three: Drug Development
Infrared and Raman Spectroscopy for Process Development

George Zhou, Robert Guenard and Zhihong Ge
The Analysis of Pharmaceutical Substances and Formulated Products by Vibrational Spectroscopy

Don Clark and Alexander Pysik
Raman Analysis of Pharmaceuticals

David E. Bugay, Jan-Olav Henck, Michael L. Longmire and Fiona C. Thorley
Vibrational Spectroscopy of Solid-State Forms - Introduction, Principles and Overview

Terry L. Threlfall and John M. Chalmers
Vibrational Spectroscopy of Solid-State Forms - Applications and Examples

David H. Igo and Pingyun Chen
Pharmaceutical Applications of Chemical Mapping and Imaging

Don Clark, Mark Henson, Fred LaPlant, Slobodan Sasic and Lin Zhang
Terahertz Spectroscopy for Pharmaceutical Applications

Mike Claybourn, Husheng Yang, Lubomir Gradinarsky, Jonas Johansson and Staffan Folestad
Part Four: Conclusions
History, Trends and Prognostications

Peter R. Griffiths, John M. Chalmers and Don E. Pivonka